"What to do if I forgot my iPad password? I forgot the lock screen password for an iPad mini, and entered the wrong passcode, again and again, causing the iPad to be disabled. I can't find a solution despite trying to fix. Is there a way to unlock it?"
Forgot the password set for iPad and locked out of the device? Probably because you have recently changed your password (especially when drunk). Then, you can't remember your new iPad password.
If you forgot your iPad password, no matter how it happened, can you regain access of the device? Of course, you can. Although you can't recover your forgotten password, it's possible for you to remove the forgotten iPad password and use it as a brand new one.
This article will introduce 3 solutions to help if you forgot an iPad password. The methods are detailed step by step. Please choose the most suitable solution according to your specific situation. (It's worth noting that the following methods will delete all data completely because they will unlock your disabled iPad via restoring the device to factory settings.
Quick Navigation
Part 1. The iPad Password You Forgot: Screen Lock or Apple ID?
Part 2. What to Do If I Forgot iPad Screen Lock Password?
Part 3. What to Do If I Forgot iPad Apple ID Password?
Part 1. The iPad Password You Forgot: Screen Lock or Apple ID?
iPad's Screen Lock Password and Apple ID password are 2 different passwords unless you use the same string of characters or numbers as the password. Please check the difference between these two types of passwords:
Forgot Screen Lock Password: Unable to unlock your iPad (a 4-digit or 6-digit password). Multiple failure attempts will cause iPad is disabled. You need to restore the device to factory settings.
(But please pay attention that after restoring, you need to set up the iPad with Apple ID. If you don't have your Apple ID, then it won't work. In this case, you are recommended to first check what to do if forgot Apple ID in Part 3.)
Forgot Apple ID password: You can no longer download apps or purchase items from iTunes.
Part 2. What to Do If I Forgot iPad Screen Lock Password?
When forgetting the iPad password, of course, you can't easily reset the device's lock screen because of Apple's privacy policy. So, please follow the instructions below.
(Please know: no matter you use iTunes or Find my iPhone to remove screen lock password, all the data and settings will be erased. Because both will factories reset your device.) And so far, there's no way to unlock iPad without losing data.
Way 1. Restore Forgotten iPad Password if You Use iTunes
The steps to restore our iOS device using iTunes are not complicated. Please follow this guide if you have forgotten your password on iPad. (If the normal reset does not unlock your iPad, please boot device into recovery mode and connect to iTunes, and then try again.)
Commonly used reset iPad via iTunes
Please make sure iTunes is upgraded to the latest version, or else, it may not detect your device. It happens from time to time.
Launch iTunes on your computer. Then, connect iPad to the computer with a USB cable.
Select your iPad device and click Summary on the left control panel.
Click the "Restore iPad" button and confirm it when a pop up warns you.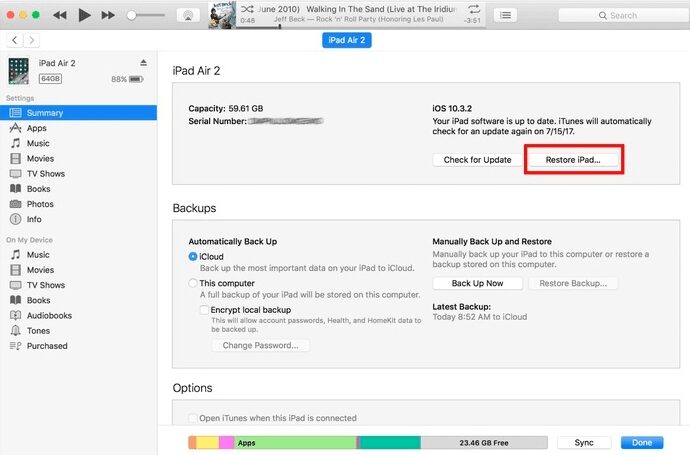 Reset iPad via recovery mode
Again, you need to update iTunes to the latest version.
Put the iPad in recovery mode: Press the Home and Power buttons simultaneously for at least 10 seconds. When the Apple logo appears, please release the power button but still hold down Home.
Launch iTunes and connect your iPad to your computer via a USB cable.
When iTunes detects that the iPad is in recovery mode and prompts "You must restore this iPad before it can be used with iTunes", please click the "OK" button and start to restore iPad to factory resetting.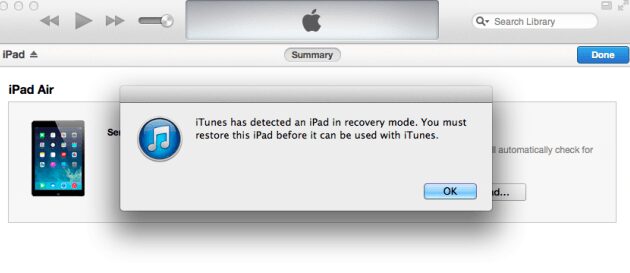 Way 2. Erase iPad Password via iCloud Find My Device
This method requires "Find My iPad" is enabled on the iPad. If your iPad is not enabled before it is locked, you will not be able to erase your device. Although this is often played around when the device is lost or iPhone is broken, it is also suitable for remotely wiping the device when forgetting iPad lock screen password.
Step 1: Make sure your iPad is connected to good WiFi.
Step 2: Open the iCloud website, type in ID and password to log in to the account, and click on the "Find iPhone" option.
Step 3: Click on "All devices" and select the locked iPad if there are multiple devices in your iCloud account.
Step 4: Next, click the "Erase" button.
Step 5: Last, confirm and Wipe your iPad.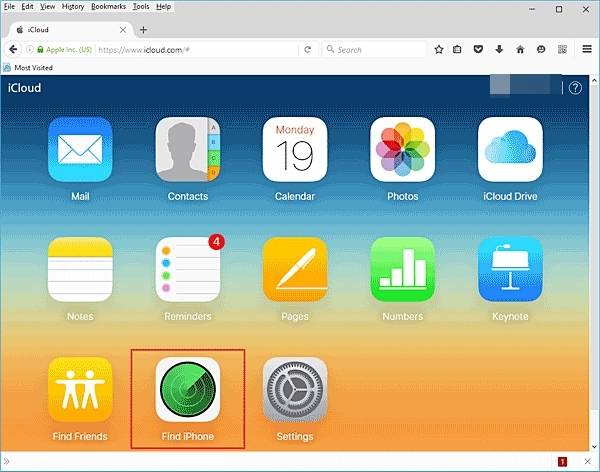 Part 3. What to Do If I Forgot iPad Apple ID Password?
Forgetting the Apple ID password is probably because you haven't downloaded the app from iTunes for a while. The official website is your primary source of help because Apple has a website dedicated to managing Apple ID accounts.
Step 1: Open a browser on a computer and go to the Apple official website appleid.apple.com.
Step 2: Under Manage your Apple ID field, click on "Forgot Apple ID or Password" located in right below.
Step 3: Fill in the email address (associated with the Apple ID) and Continue.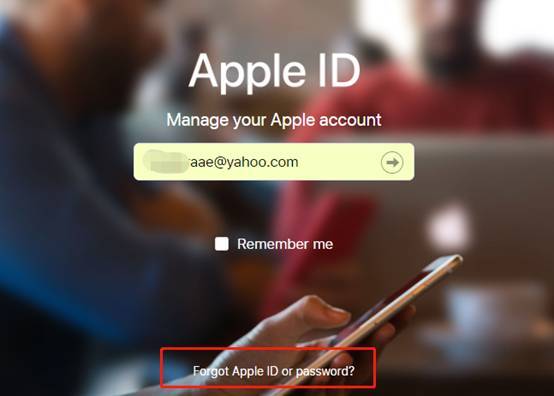 Conclusion
The above methods are practical and effective, for the case of forgetting an iPad password. Confirm which password you have forgotten, screen lock or Apple ID password, and then choose the right solutions depending on your specific problem. You can fix it via iTunes, recovery mode, iCloud and Apple official site. Why not Give it a try? (In addition, I haven't found any way to unlock iPad without losing data.)
At last, if you have an any better idea or a suggestion to add to this article, please leave a message right below or contact us.
---
This Article is Contributed By Liz Harris.