"I missed an important phone call because my iPhone not ringing. I was holding my device when waiting for the incoming call, but I got neither sound nor vibration. Is there any way to solve it? Any idea will be appreciated."
If iPhone doesn't ring, it will bring you troubles, no matter it's at work or in life. Imagine that you missed important calls and messages, it could cause you to miss an emergency meeting, a chance to get promoted, or phone call from your beloved ex-girlfriend. Have you also come across this problem?
Fortunately, you have found that your iPhone won't ring. Now, what you need to do is to do everything possible to fix this issue. Please check the reasons and solutions in the below section.
Why My iPhone is Not Ringing?
Way 1 Set the Mute switch to Ring
Way 2 Set the Ring and Alert volume
Way 3 Disable Do Not Disturb on iPhone
Way 4 "Allow Notifications" on the Device iOS 12/11.
Way 5 Reset All Settings on iPhone
Way 6 Restore iPhone to Factory Settings with iTunes
Why My iPhone is Not Ringing?
In general, this is caused by the device settings or software issues, such as silent mode, do not disturb mode and iOS bugs. This iPhone won't ring problem is very easy to solve. Please refer to the 6 effective methods in the following part.
(Note: if you fell your iPhone from high or dropped to water, it's likely to be a hardware problem.)
To make your iPhone no longer silent, you must set it to ring. iPhone provides a friendly design that allows the user to turn off the "silent mode" via the Ring/Silent switch on the side of iPhone. Because once it turned on, your iPhone will not make any sound, even when a phone call is coming in, or a message.
Simple steps to disable Silent mode: press the button. If you see the speaker icon on the iPhone screen display, the device is not in the silent mode. If not, tap and switch modes.

Way 2: Set the Ring and Alert volume
Can it be that iPhone is not muted, but the sound/vibration is too little to know? With some user feedback, this situation exists, especially for the grandpa and grandma.
The tip to volume up iPhone ring and alert:
Step 1. On the iPhone screen, open Settings > Sounds, view Ringer & Alerts
Step 2. Tap the volume button on the left to increase the volume.
Step 3. This way, you can be sure that the volume is not muted.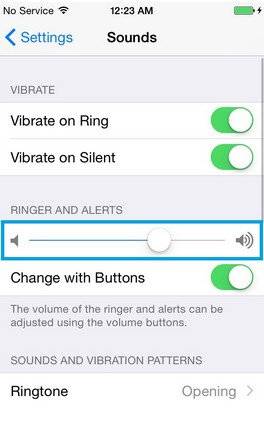 Way 3: Disable Do Not Disturb on iPhone
Excluding the mute and silent mode, then you need to check if iPhone is turned on "do not disturb" feature. Because "do not disturb" will silence calls, reminders, and notifications on your iPhone.
How to check if your iPhone is turned on Do Not Disturb:
Step 1. swipe up on the screen, you will find a small moon icon in the control center.
Step 2. you can tap to enable or disable the do not disturb.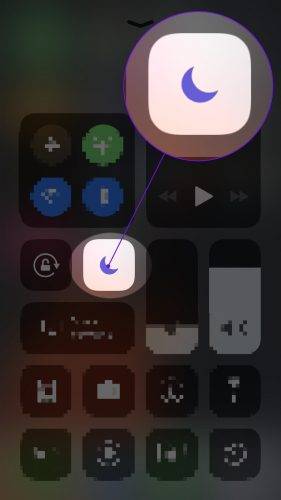 Way 4: "Allow Notifications" on the Device iOS 12/11.
If the above 3 tips have not solved the problem that the iPhone does not ring, it is possible to be a "allow notification" setting error. If you include a list that doesn't allow notifications, your iPhone won't ring even if you set ringtones and vibrations.
To allow notifications you need to:
Step 1. open the Settings and find the Notifications, click on Phone (or messages),
Step 2. finally tap the Allow Notification button.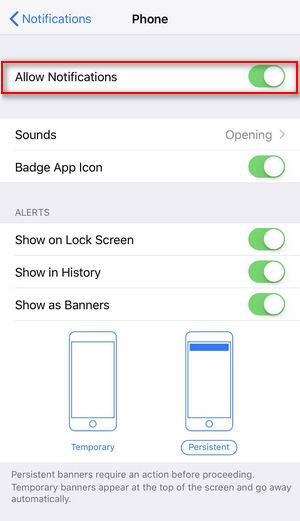 Way 5: Reset All Settings on iPhone
If your iPhone still does not ring, then resetting all the settings on your device should help you. It does not delete any user's files, but only removing all user-defined settings.
How can you reset all settings on iPhone:
Step 1. Open "Settings" and go to "General", find "Reset" and tap "Reset All Settings".
Step 2. Next, you just need to wait for your iPhone to reboot.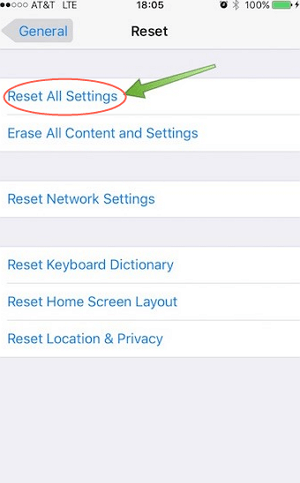 Way 6: Restore iPhone to Factory Settings with iTunes
If this is a problem with your iOS device settings or software, using iTunes to restore your iPhone to factory settings can help you solve this iPhone not ringing issue.
First, you need to back up important data on iPhone to iTunes. Because this method will delete all the data and settings on your device.
Step 1. Launch the iTunes program on your computer
Step 2. Connect your device to your computer using a USB Cable.
Step 3. When iTunes detects your phone, click on the iPhone icon.
Step 4. Click the "Summary" tab in the iTunes software interface, find the "Restore iPhone" button, and then click on it.
Wait for several minutes and your device will be restored to factory settings. When iPhone restarts, its internal storage space is like a brand new device. Because this method will erase all files and data, please use the backup before performing the factory reset.
If you have tried the above methods, but still the iPhone doesn't ring, then it's very likely that your device is having a hardware problem. If the phone is still under Warranty, you can exchange for a new iPhone directly through the official channel. If out of Warranty, the recommended solution is to go to the local Apple Store for professionals to detect and repair. Or, you can log in to the Apple Support website and mail iPhone to fix.
If you are not a technician, we do not recommend repairing any iPhone hardware yourself, although the Apple Store may be expensive to repair.
Make a Conclusion
I hope this article will let you solve your iPhone not ringing problem. The six methods described above have been detailed and listed.
If you have follow-up questions or other experiences to share, please post in the comments section below.
---
This Article is Contributed By Liz Harris