Last updated on March 22nd, 2022 by Rahul Kumar Singh
Are you looking for the best WordPress SSL plugin to secure your WordPress website? If yes then this article is especially for you because in this article I will show you 10 top WordPress SSL plugins.
Everybody knows that SSL is the most important thing for website security. But the problem is some SSL plugins work well but after certificate reissue it does not work.
If you are ready to know all these Top 10 WordPress plugin names then let's begin without any more words.
Top WordPress SSL Plugin
WP Force SSL
SSL Insecure Content Fixer
Really Simple SSL
Easy HTTPS Redirection
One Click SSL
WordPress HTTPS
WC SSL Seal
JSM's Force SSL
Verve SSL
SSL Secure Seal for WooCommerce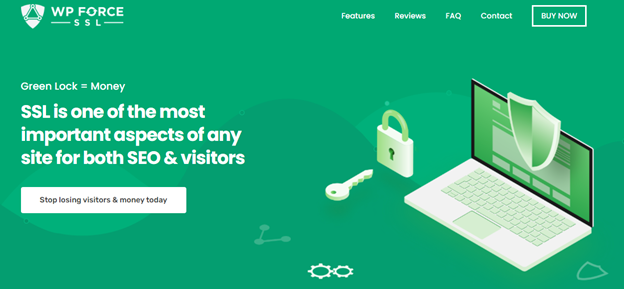 With WP Force SSL, users can easily redirect HTTP traffic to secure HTTPS and fix SSL problems without modifying any code. To enable SSL, activate the Force SSL option. SSL certificate will be used to encrypt the entire site. Any SSL certificate will work – both free Let's Encrypt SSL certificates or purchased SSL certificates. To ensure the best user experience, it includes more than 14 SSL tests and other options. The plugin comes with an SSL certificate validation tool witch tests if the SSL certificate is valid, installed correctly, and up to date. WP Force SSL is compatible with all existing themes and plugins. Free and paid options are both available.
Features: 
Content Scanner – plugin provides a complete report that examines all your pages in a matter of minutes in order to avoid mixed content difficulties
SSL Monitoring – real-time SSL monitor keeps an eye on more than 50 errors each time it checks users' site
Ease of use – all tools and options are user-friendly and straightforward to use
Centralized Dashboard – saving time and managing purchases, licenses, sites & SSL monitors was never easier
Premium Support – developers are answering most of the ticket, and that guarantees the best support available
How to setup WP Force SSL: 
Open Plugins – Add New in WP admin and search for "WP Force SSL"
Install and activate the plugin
Open plugin settings via Settings – WP Force SSL
Check provided tests and settings
SSL Insecure Content Fixer is an open-source project and fully free plugin. This plugin is focused on the insecure content filter and it is a bunch of features available that need SSL Security. It is used by 300,000+ site owners.
Features:
Insecure content warning.
Insecure content filter.
Simple fix level.
How to setup WordPress HTTPS?
Install SSL Insecure Content Fixer.
Activate this plugin.
Enable SSL Redirection.
Really Simple SSL helps you to migrate your website from HTTP protocol to HTTPS protocol. This is paid plugin but its free version is also available, and it is working well in every WordPress version. Really SSL plugin is the most used WordPress SSL plugin, over 3+ million websites use this plugin.
Features:
Mixed content scan, which shows you what you have to do if you don't have the green lock yet.
HTTP Strict Transport Security Available.
HSTS preload list Configuration.
Advanced security headers for additional security.
Mixed Content Fixer for the back-end.
Certificate expiration checking.
How to setup Really Simple SSL?
Install Really Simple SSL Plugin.
Activate this plugin.
Check SSL Certificate (You must have a certificate installed).
Enable SSL in a single click.
Easy HTTPS Redirection is a WordPress SSL plugin that easily redirects HTTP to HTTPS. This is a free and open source plugin, so anyone can contribute to this plugin. Easy HTTPS Redirection is now a popular WordPress SSL plugin and over
100,000+ active installation.
Features:
It auto-redirect for the whole domain.
It also auto-redirects for a few pages.
Force load static files using an HTTPS URL.
How to setup Easy HTTPS Redirection?
Install Easy HTTPS Redirection.
Activate this Plugin.
Check SSL Certificate (You must have an SSL Certificate Installed).
Enable SSL.

One Click SSL is also a Free SSL plugin Launched By Tribulant Software. It is a simple and easy-to-use plugin that redirects all HTTP pages to HTTPS and also load resources in HTTPS (for protecting from mixed content issues). It is a new plugin and 20,000+ WordPress sites are using this SSL Plugin.
Features:
Auto Check if SSL is Installed
Enable SSL in a single click
Redirects all HTTP URLs to HTTPS
Converts all HTTP resources to HTTPS
How to setup One Click SSL?
Install One Click SSL.
Activate this plugin.
Enable SSL by checking SSL availability.
WordPress HTTPS is a free SSL plugin for WordPress. This plugin is the most used plugin but from the previous 2 years, It is not updated anymore but still working fine on the latest WordPress version, and at this time over 100,000+ sites running on this plugin.
Features:
URL Mapping.
URL Filters.
It Also has Single Post HTTPS Control.
How to setup WordPress HTTPS?
Install WordPress HTTPS.
Activate this Plugin.
Enable SSL by clicking on Force SSL Administration.
WC SSL Seal is a free Woocommerce SSL plugin that helps your online store secure. It will also show the SSL Secure certificate at the bottom of the page or on the checkout page. This plugin is not popular but it is the maximum used plugin in the online store.
Features:
Custom SSL Image
Custom SSL Embed Code
How to setup WC SSL Seal?
Install WC SSL Seal.
Activate this Plugin.
Go to WooCommerce > Settings > SSL Seal Tab to Enable SSL.
JSM's Force SSL redirect HTTPS URL dynamically. It is a free, secure, and simple plugin that makes setup SSL in WordPress site easier. This only needs installed SSL Certificate to run this.
Features:
No Plugin Settings to Adjust.
Enable Dynamic Redirects.
How to setup JSM's Force SSL?
Install JSM's Force SSL.
Activate this Plugin.
Enable SSL in one Click.
Verve SSL is a also WordPress plugin that logs in to the administrator area in HTTPS, and after log out it automatically redirect back to HTTP. This plugin is new but it is working properly. The main feature of this plugin is it automatically remove insecure content and then update it to secure.
Features:
Automatically SSL for WP-Login.php Page and Administration Area.
SSL security for the entire login session.
Automatically remove insecure content and update it to secure.
Easy way to installation.
No changes in code to WP-Config.php required.
Compatible on All WordPress Version.
Converts URLs for better SEO.
How to setup Verve SSL?
Install Verve SSL.
Activate this Plugin.
Enable SSL Automatically.
SSL Secure Seal for WooCommerce is a free WooCommerce plugin. This plugin adds an SSL certificate badge in the footer. This plugin is able to upload or select an image from WordPress media as the seal badge. It is comfortable up to WordPress 4.8.9.
Features:
Able to upload the custom image from WordPress media as the badge.
Add SSL Certificate Badge Embed Code Directly.
How to setup SSL Secure Seal for WooCommerce?
Install SSL Secure Seal for WooCommerce.
Activate this plugin.
Activate SSL in one click.
Final Word About WordPress SSL Plugin
If you are running the website on WordPress then you already know the importance of SSL Certificate.
Why SSL is important? Watch this video to know 🙂
Do you want to create a WordPress website? if yes then check this guide.
If you have any questions feel free to ask below.