Published on November 10th, 2020 by Rahul Kumar Singh
If you want to make a website available online, it is important to upload its files to a web server that can be purchased from a hosting provider. This is known as web hosting.
Most website owners generally start with shared web hosting. Further, as their site grows and requires more resources and functions, they need to upgrade to a more powerful hosting option. Generally, a virtual private server (VPS) is considered as the mid-option between shared hosting and a dedicated hosting setup in which your website runs in a virtual server environment.
Let's divide the hosting types down with a simple analogy. Shared hosting is similar to an apartment building. Though being cheap it comes furnished with everything you need to move in. The only disadvantage is you need to share facilities with many other people (share resources with the other accounts on the same server), and if you throw a big party (have lots of traffic), building management will surely have an issue.
A dedicated server is similar to having your own house with acres of land around it. You are independent to use all resources in the house and you won't be disturbed by your neighbors, even if you do throw a party (experience high traffic).
VPS stands in the middle. Its behaviour is like dedicated server but has allocated system resources. Let's consider VPS as a townhouse, it's bigger than an apartment (shared hosting) but you need to share the property and certain services. Additionally, you can easily throw a party (have lots of web visitors).
It isn't quite easy to understand hosting for all but you can understand the basics of it in no time. In case you are planning to opt for cheap vps hosting and understand its alternatives but still feel unconfident, keep reading further. May you be just starting with a blogging website or an individual site that is running slowly with your current hosting plan, VPS hosting could be a perfect option to upgrade for you. 
There are different types of VPS hosting services – unmanaged and managed VPS hosting.
Unmanaged VPS
In unmanaged VPS hosting, your web host manages the tasks such as installing the operating system, and you as the site owner needs to manage various aspects of the server such as:
Installing software, control panel and being alert for software updates.
You also need to monitor for security threats, install security patches and fix error messages.
When there is an outage or hardware failure you won't get all the support from your host.
Also, you need to configure and maintain your server including any upgrades you required.
You are responsible for setting up your sites backup services.
Thus, unmanaged hosting is recommended for those who are technically skilled.
Managed VPS
Site owners that have the technical knowledge or a smaller staff can benefit from managed VPS. In managed cheap windows vps hosting, your load is taken over by IT professionals by keeping your server running correctly and taking care of your virtual server. Below are the things that you can expect from a web hosting provider:
When you host your website on a VPS you need to a few steps to for setting the server up. These include installing your control panel, server software and installing your preferred applications and your operating system. But in managed hosting, the web host will take care of this.
Also, all applications and OS updates, and ongoing fine tuning of the server will be done for you by the web host.
The web host ensures that security patches for your OS and core server software are installed and updated for you.
Your website will be monitored for early warning signs of hardware failure and malicious attack
If anything goes wrong with your site, you can retrieve it back to an earlier version as the web host will maintain a backup of your website.
Some of the web hosts such as MilesWeb offer greater flexibility. They offer Self-Managed, Managed and Fully Managed VPS hosting plans.
MilesWeb – An Introduction

An Indian web hosting company, MilesWeb was established in 2012. It aims at offering the best web hosting services with the help of cutting-edge technology that helps to boost your website's performance. The types of web hosting plans offered by them are shared, dedicated, VPS, reseller, cloud and WordPress hosting. They have a dedicated customer support team to assist their customers when they face any issues. You will find them available at anytime via live chat and email.
Managed VPS Hosting Plans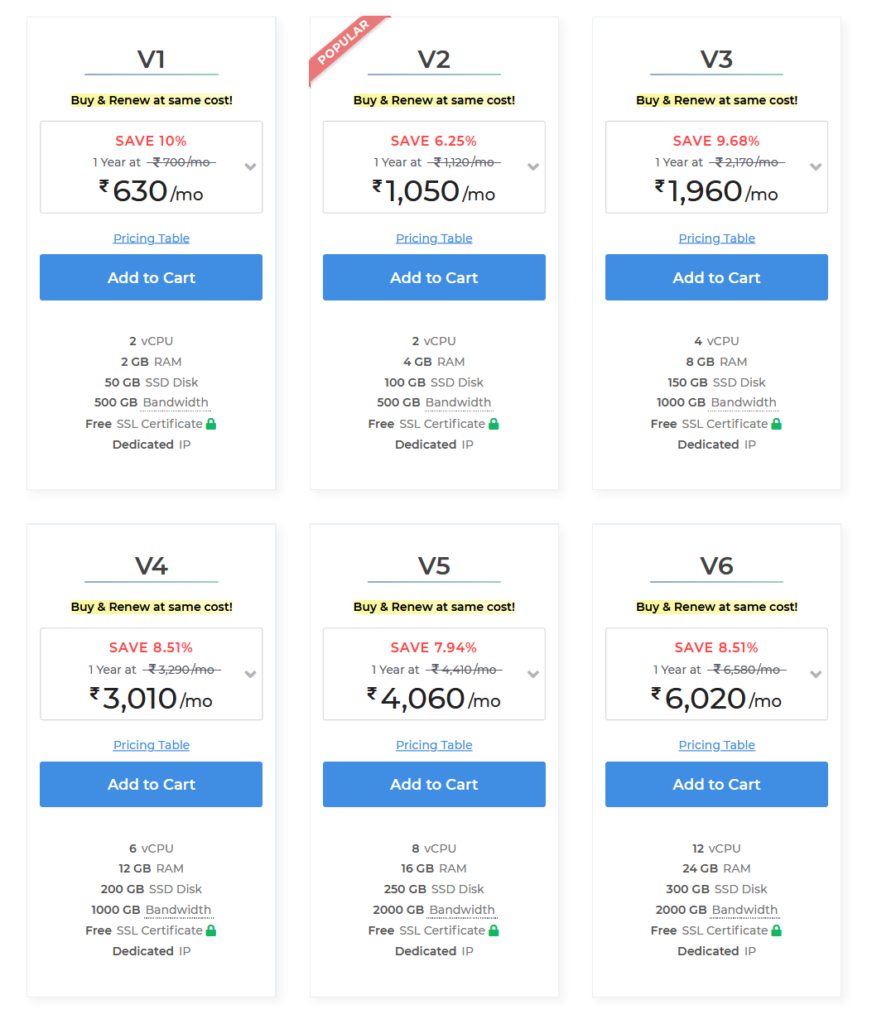 Features
Free Website Migration: You can migrate your website at anytime to their servers without any extra charges. Also, they ensure your website's data security while migration is done.
Choose Your Control Panel: You can select your preferred control panel from the different control panels such as cPanel, Plesk & Webuzo. These control panels will help you to manage websites, domains and emails.
Cloud Powered VPS: Their VPS hosting plans are based on cloud infrastructure that offers the best I/O performance. You get the power of dedicated server as well as the flexibility of cloud hosting.
Enterprise-Grade Hardware: Their hardware comprises of SSD servers, powerful Intel Xeon Processors and 128GB of RAM per server.
Solid-State Drives: SSDs helps in offering the best performance and reliability as compared to HDDs.
Free VPS Management: They help you in managing your VPS without any extra charges.
SSH and Root Access: They offer you complete control over the server with SSH and root access.
Resource Monitoring Dashboard: Their user-friendly resource monitoring dashboard allows you to monitor memory usage, reboot VPS, check server load and manage other configurations of your VPS server.
Host Unlimited Websites: You can host multiple websites on your single VPS hosting account.
Instant Provisioning: Your VPS account is setup immediately after your payment is confirmed.
No Setup Fee: They don't take any extra fees for setting up your VPS account.
Robust Infrastructure: Their VPS hosting infrastructure is built using technology from big players such as Dell, Cisco, Supermicro, and HP.
24/7/365 Support: You get 24/7 support from their support team, if you face any issues on your website. 
Also read – PaidBoom Review
Customer Reviews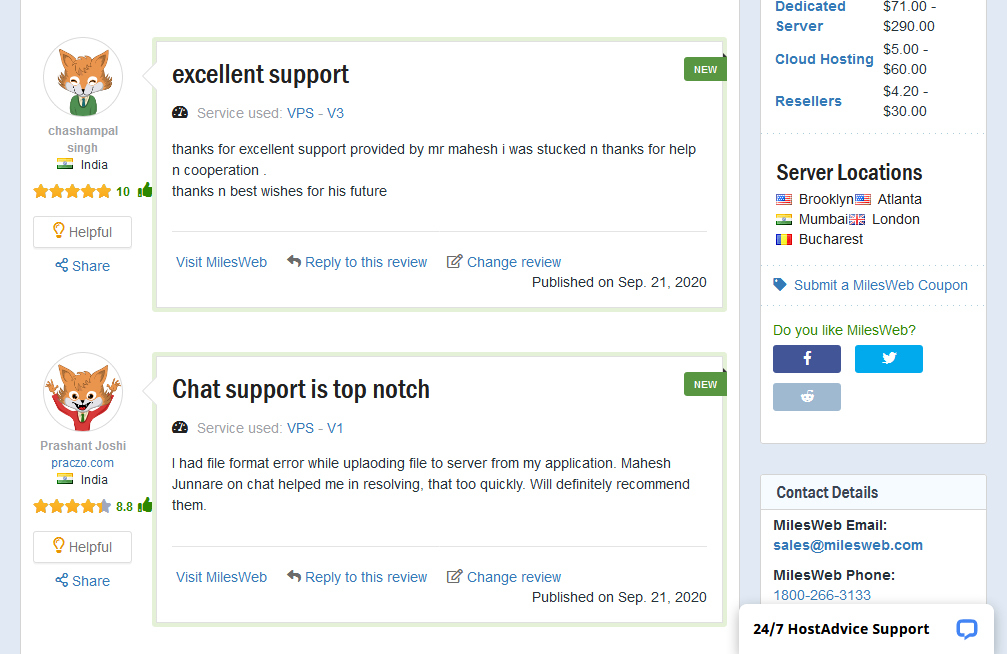 Conclusion
MilesWeb's managed VPS hosting offers you the best features to run your website smoothly. Moreover, you get the flexibility of the cloud and power of a dedicated server for your website. Also, they take the complete responsibility of managing the server for you, so that you can work on your business growth strategies.