Last updated on December 1st, 2022 by Rahul Kumar Singh
Time refuses to stand still. There are lots of marketplaces and websites for web designers or just for people who want to create a website.
Recently, such websites started to offer subscription services, which has become so popular on the web. TemplateMonster also keeps up with trends and launched its paid subscription, which is called ONE.
What is TemplateMonster Marketplace?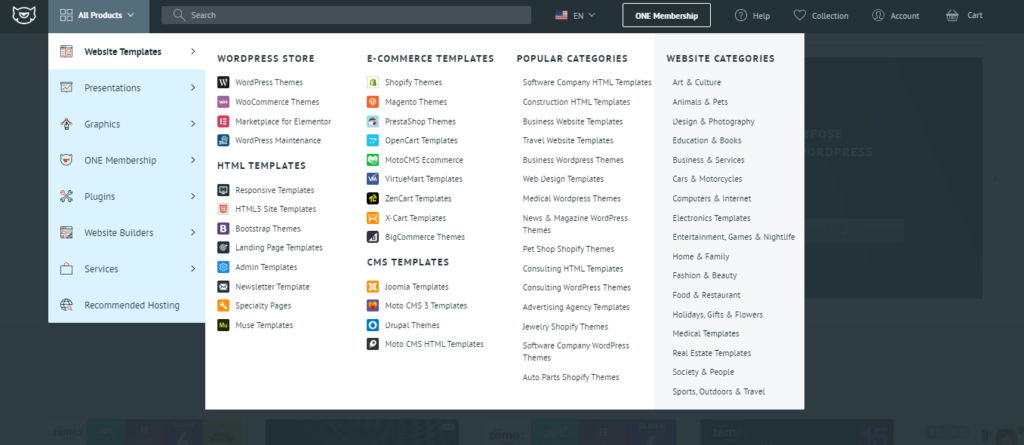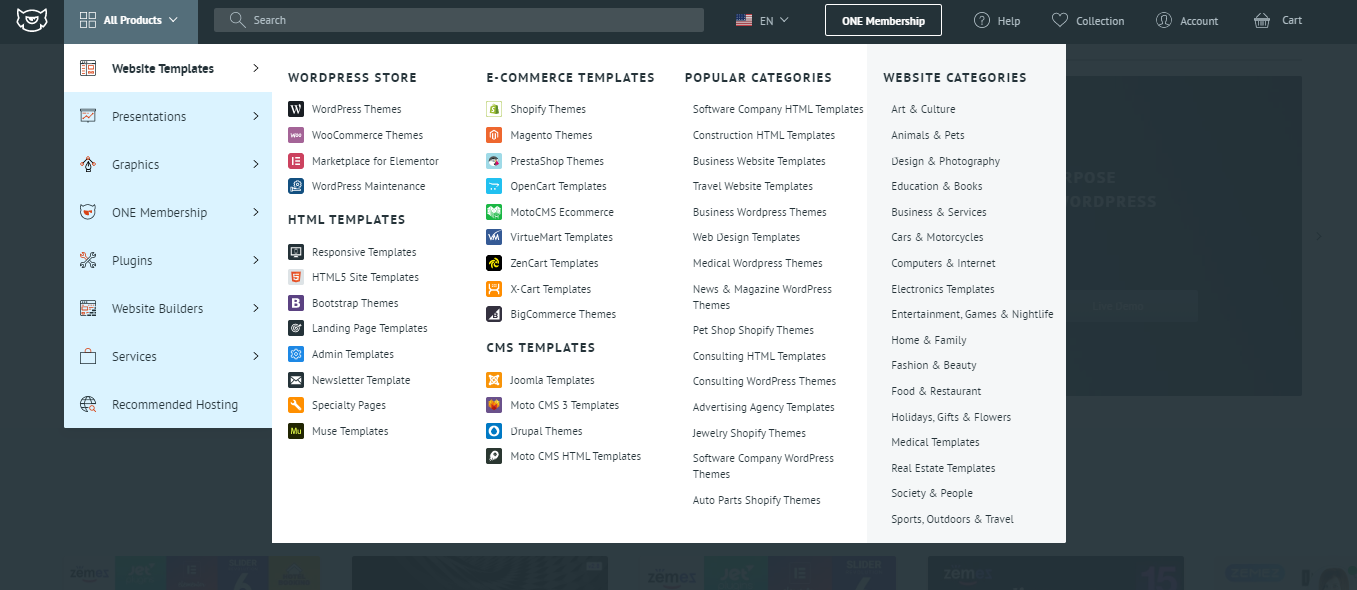 It is one of the most popular marketplaces. TemplateMonster is an ever-growing and updated platform where you can purchase high-quality digital products. Now there are more than 32,000 solutions on the site. This is a real catch for those who have or want to start a home-based web design business. On the website, you will find such products as:
WordPress website templates for dozens of different niches;
HTML website design templates;
templates for many popular CMS;
Different presentation templates;
graphic elements (logos, banners, illustrations, icons, etc.);
plugins;
website builders.
When choosing any product or service from TemplateMonster, you always have a choice — free or paid (premium) templates. A large number of premium templates are provided with ONE subscription too. So, let's start with the ONE subscription.
What is ONE Membership?


ONE membership is a unique opportunity for developers, designers, marketers, and all those involved in the creation and promotion of eCommercial business projects. The membership includes more than 12 thousand templates, and this list is constantly updated. The bottom line is this: a user pays one time and gets access to an unlimited number of premium products. There are two tariffs, including an unlimited number of product downloads, stock photos for projects, graphics sets, the ability to install additional plugins, and one year of 24/7 technical support.
What Does ONE Offer?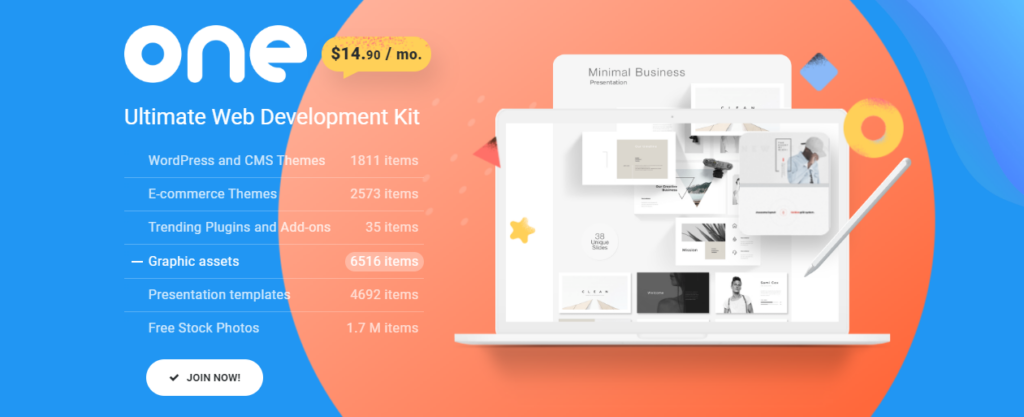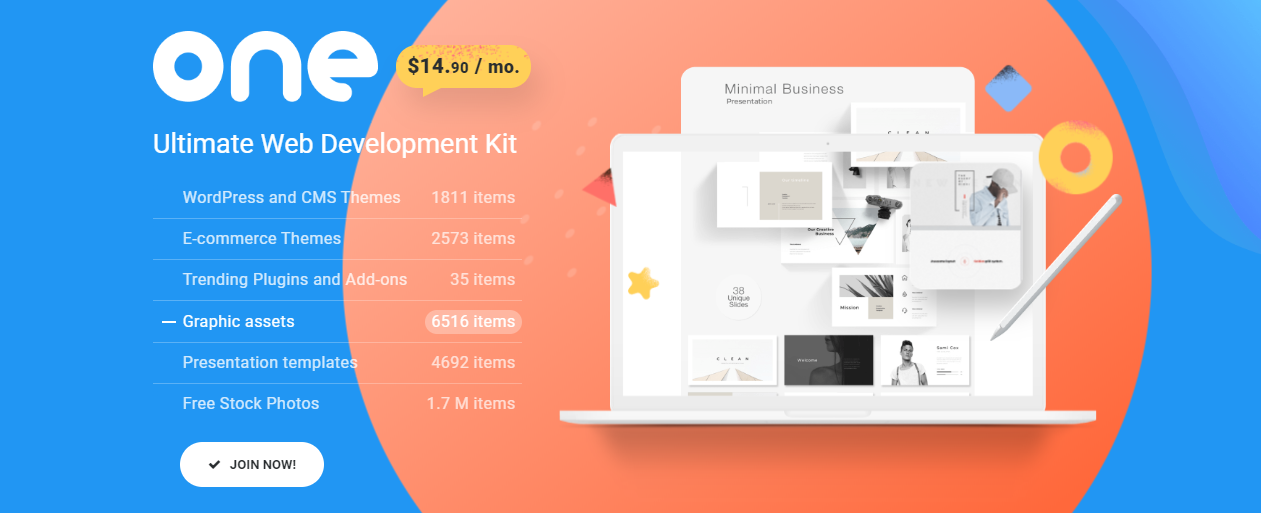 ONE membership by TemplateMonster is a tool with which you can solve a whole range of problems. It contains more than 16 thousand elements, ranging from WordPress themes to sets of icons and fonts.
With this impressive solution, you have access to an unlimited number of digital products because the collection of the TM marketplace is very large. You can see for yourself if you search the gallery with niche-specific eCommerce website templates, eye-catching illustrations, various plugins, etc. And most importantly, new website templates and other products appear every month.
It is worth noting that all digital elements of ONE subscription have an extended developer license. So, you have the option to use the same theme on more than one website. You can select a theme with any style, design, business niche, function, and performance features.
If you haven't found the item you're looking for, you can get up to a 50% discount for it as a bonus after subscribing to the ONE service. Also, you can cancel the subscription at any time within 14 days.
I'll start with the most sought-after section for creating beautiful and functional — WordPress.
Everything for WordPress
WordPress themes and templates. Here you will find quite a large library for more than 20 niches. Almost 1000 WordPress themes will help to create a website from scratch from blogs to business portfolio.
Plugins. Additional modules and extensions will help add new functionality to the site, make it more convenient and profitable. The subscription also includes plugins for PrestaShop CMS.
WooCommerce templates. These products can be used to organize an online store of any goods: from clothes and gadgets to furniture and cars. Select and edit a ready-made directory page structure or create it yourself, without delving into the HTML-layout. Then simply fill out the relevant pages and product cards with your original content.
Elementor templates. Elementor is ideal for creating and editing original pages by easy dragging and dropping. Most of all, it works great for landing pages, corporate web projects, etc.
CMS and HTML templates
Content management systems make it easy to administer websites even for beginners. ONE membership by TemplateMonster includes layouts not only for WordPress but also for such CMS as:
Joomla;
PrestaShop;
VirtueMart;
Magento;
Shopify;
OpenCart.
All of them are also popular in the eCommerce business. Each of them has its pros and cons in creating online stores. ONE membership offers hundreds of templates for each CMS and any taste.
And many users still love to use HTML-based website themes for websites and webpages. They do a good job of creating landing pages. Besides, there are beautiful HTML templates in Russian, that are easy to adapt to almost any task. In addition, in this section, you will find HTML layouts for mailing lists and admin dashboard.
Stock Photos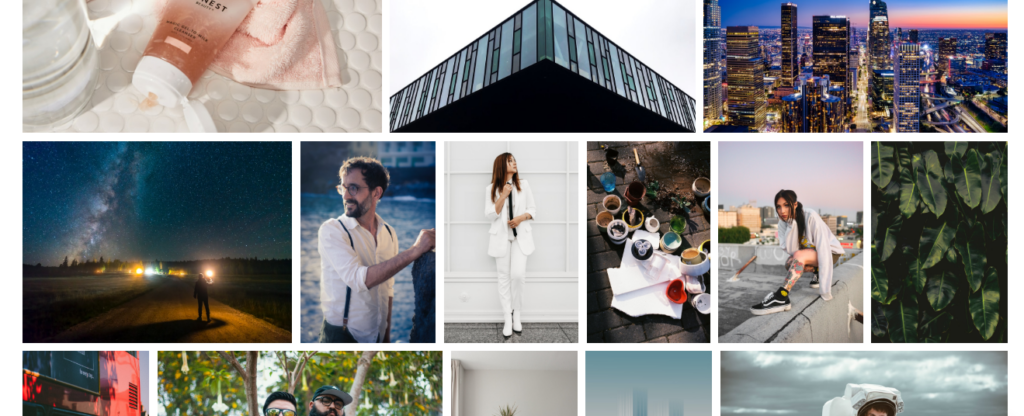 High-quality thematic photos are always necessary to fill the slides. ONE subscription has a photo bank available, which includes almost 2 million excellent stock photos. You can easily find the one you need by keyword.
Such an opportunity really makes life easier. Especially when you consider that in photo banks the price for 1 photo varies from $1 to $5.
For example, at Depositphotos the cheapest option is 10 photos per month for $10. For each next photo, you need to pay an extra $1. If you need more photos, then you will have to pay more. So, for 75 images per month, you will have to pay $69.
With ONE subscription per month, you will spend only $14.5 and at the same time, you can upload an unlimited number of photos.
Presentation Templates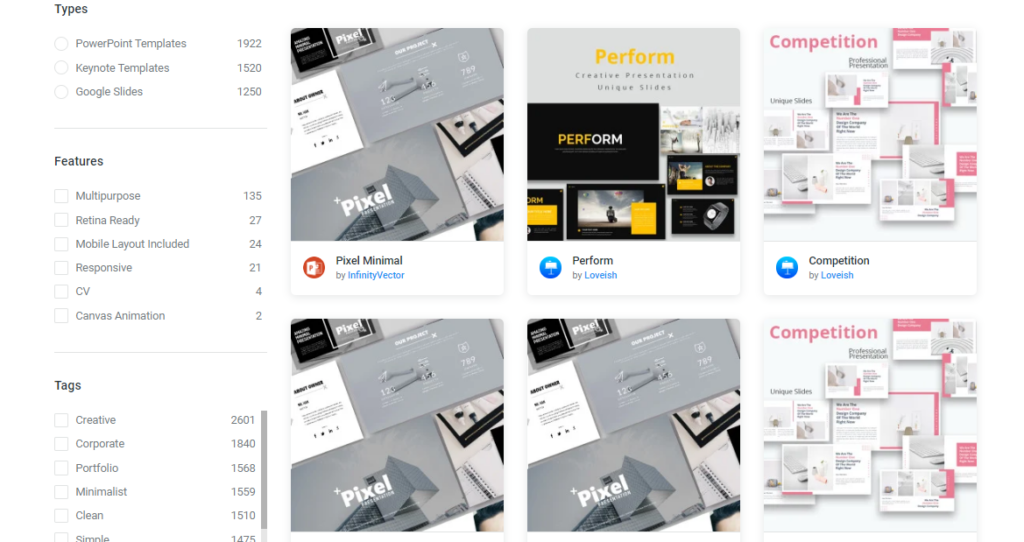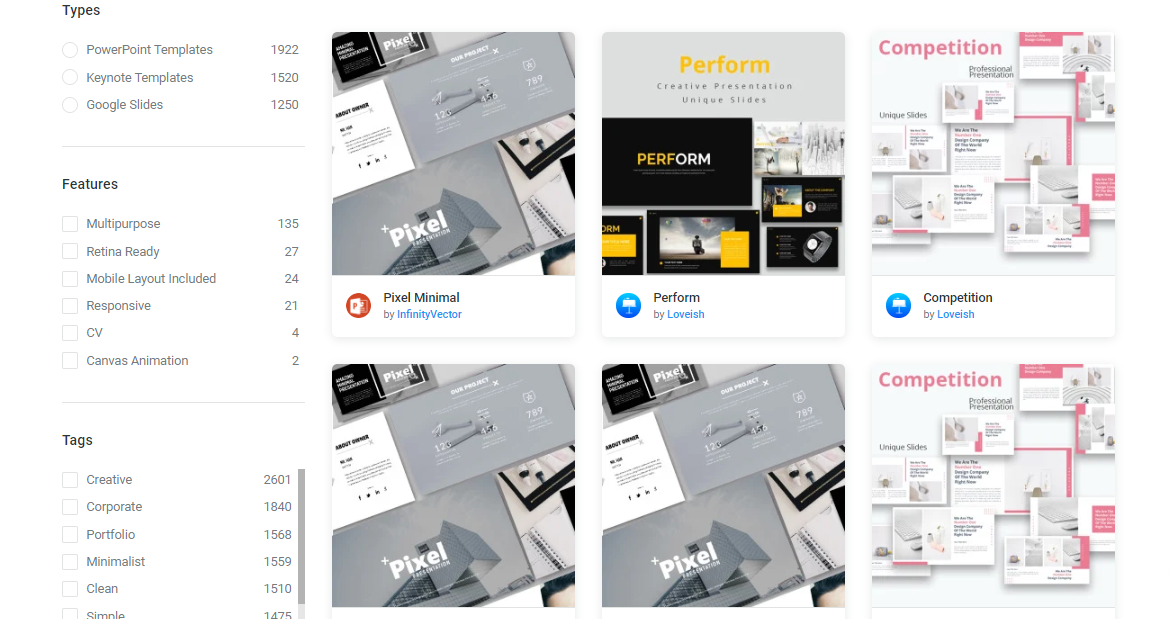 For presentation creators, the subscription includes slide templates for PowerPoint, Keynote, and Google Slides. The total number of developments exceeds 4600 copies. There are slides for all occasions. Using the filter, you can select templates for a specific topic: business services, photography, electronics, food, and restaurant, etc. All presentations are easy to edit and customize to fit your needs.
Each presentation includes:
30+ slides 16: 9;
2+ color schemes;
Vector-based images;
Free fonts;
Animations.
Other Graphic Elements
This is the most creative section. It contains a lot of visual materials for solving various problems on sites, in social networks, printing and more. All solutions are created by professionals in the field of design and look very modern.
For those who are engaged in presentations on an ongoing basis, the presence of graphic packages with icons, patterns, infographics, and illustrations will not be out of place. With their help, you can decorate your slides, add dynamics, show imagination and creativity.
Here you can find:
Thousands of PSD Templates and Icon sets;
Hundreds of Certificates, Illustrations, UI elements, and After Effects Intros;
Dozens of Fonts, Resume Template, Logo Templates, Social Media templates, and other infographic elements.
What License Do All Products Have?
Here is another advantage of ONE subscription. All products have an unlimited annual license. This means that you can use all website themes and templates for multiple projects as often as you like for a year. So, there is no need to buy eCommerce website templates for example, which is very convenient.
The good news is that the website will still work even after the "unlimited license period" has expired. All website themes and templates downloaded under unlimited licenses are valid and will be updated regularly in any case.
What Benefits Has ONE:


High-quality premium products. All products undergo detailed quality control before placing to the ONE;
Diversity of products. Unlike other popular website design templates memberships, the ONE catalog is not limited to templates. It offers also graphics, powerful plugins, images, as well as access to the tool for creating mockups, corporate identity for a whole year;
Constant updating of products. Since last year ONE Membership by TemplateMonster has increased its assortment more than twice.
24/7 Technical support for a whole year on any issue;
Up to 50% discount on a theme from TemplateMonster marketplace;
The opportunity to receive a refund if, within 14 days from the date of purchase, the user has not downloaded a single product on ONE subscription
Download without limits. During the entire subscription period, you can download any products from the service in unlimited quantities.
Available not only for personal but also for commercial use.
Draftium PRO Mockup Tool for free the first year of using;
How Much Does ONE Cost?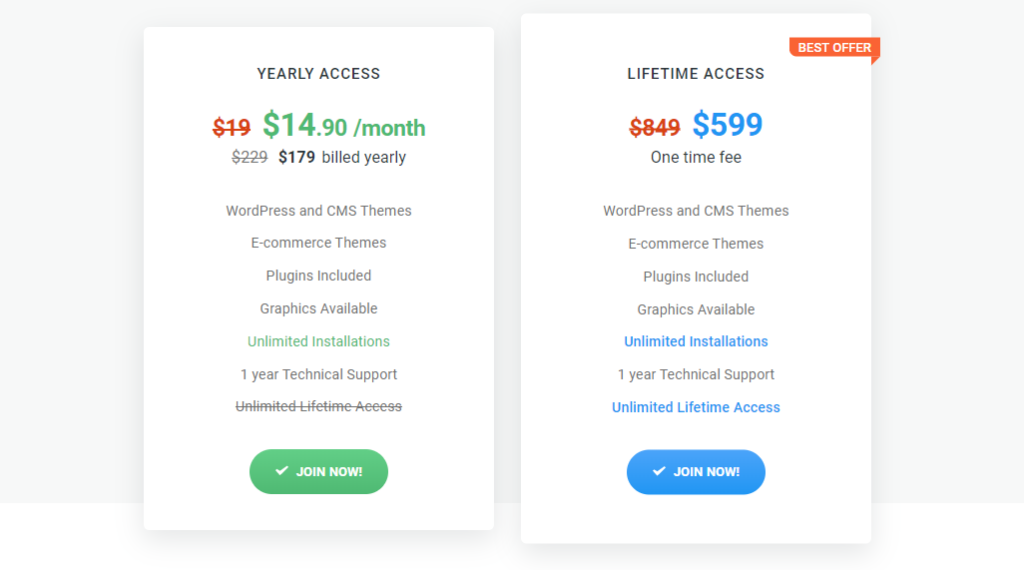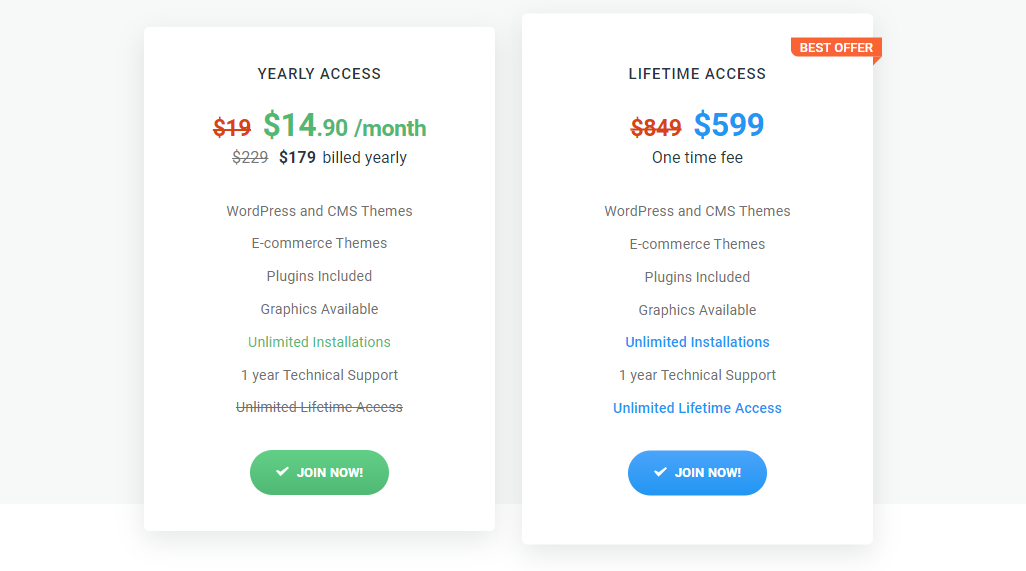 As I said you pay a fixed price for access to all materials. You can pay monthly or even pay for one-time access once. Now they have even a better deal.
Thus, initially, the layout costs $75 but those who have a subscription download it for free. And there are about 16 thousand such proposals. Totally, all products at ONE membership costs more than $500 000.
Let's find out more about pricing plans:
$179 for 1 year. You pay once and get annual access to all materials with free reusable use. With all products, and free support service it is only $14.5 per month.
$599 for lifetime access. It is a more convenient option that provides you with quality content forever. Sounds unrealistic, right? However, this is so. You need to make one payment and forever forget about the extra expenses.
You can pay via PayPal or secure Mastercard/Visa gateways. After payment you can log in to your personal account, it looks like this: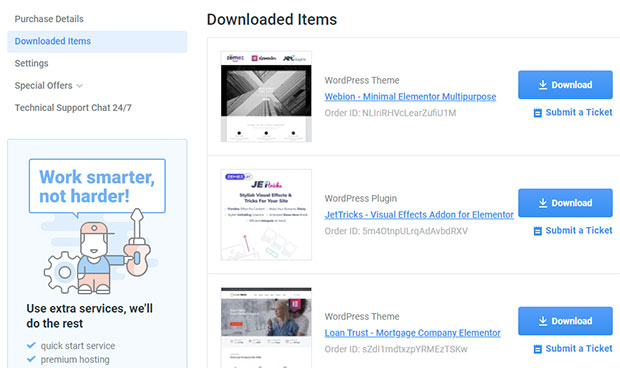 In the menu you can find:
purchase details;
list of downloaded files;
settings (personal info);
special offers (the mockup tool and up to 50% on service materials that are not included in the subscription);
technical support.
When viewing some products in the TemplateMonster catalog, you will see the following picture: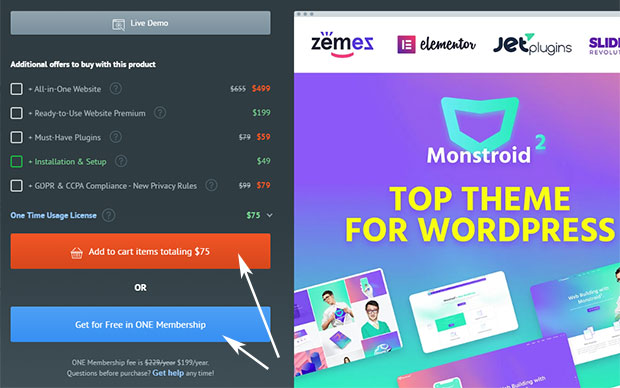 Additional Services


Finding a template or theme to create a website is just the first step to a successful start. TemplateMonster team knows it and offers a package of different essential services, such as:
Logo Creation — $134
Copywriting — $79 per 1000 words
Installation of a template — $44
WordPress Website Conversion — $208
GDPR Suite — $53
Online store installation — $141
Creating a ready-to-use website — $189
SEO Optimization — $ 269
All-in-One Store Setup — $579
Sounds expensive or not, it's up to you. The bottom line is that if you decide to be served here, the result will be 100% professional.
Who needs ONE? Examples of Using a Subscription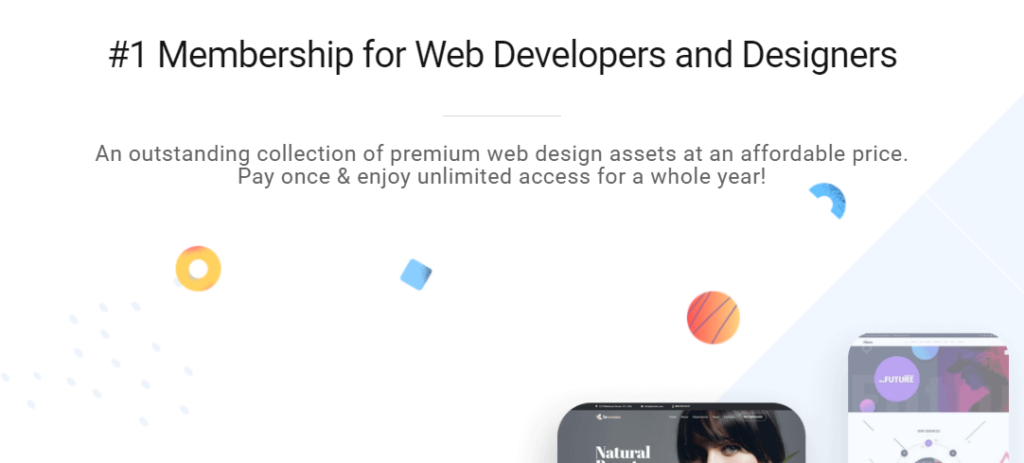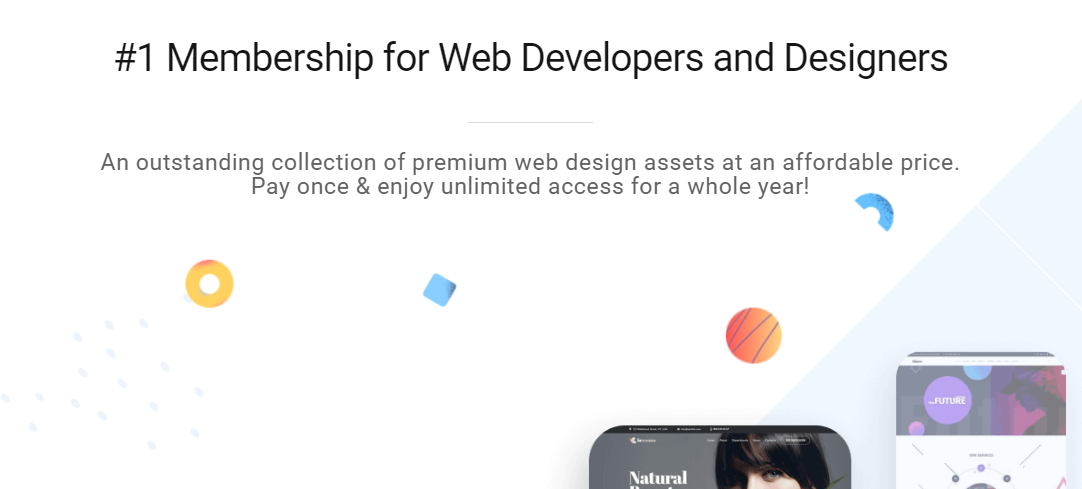 Two examples of people who will benefit from the ONE membership.
For freelancers, developers, designers. If you provide digital types of services, then you can select a certain number of high-quality products from ONE. So, you can use them to provide services for website creation, business cards, banner ads, logos, etc. using these templates.
For bloggers and business owners. The possibilities are not limited to website creation. There is still something to do:
Business cards;
Certificates;
Mockups;
Presentations;
Covers for social networks (FB, YouTube, Twitter, etc.);
Banners for social networks;
Template for the site's posts, etc.
By the way, any of these tools can be a great idea to work full-time on the internet. If without experience collecting all this material on the Internet or ordering from freelancers, then it will take a lot of time and effort.
Final thoughts
So, ONE service is when you pay once a year or once and for a lifetime, and you don't worry at all about website design, social networks, presentations, and other design elements. And if something went wrong and help is needed, there is where to turn and you can be sure that you will get an answer.
With this service, you can download a ready-made solution and free yourself from what there is no time to do, and be inspired to create something of your own. And thanks to the service, there is a chance to see the use of familiar tools, elements in an original way. So, you can pleasantly surprise the customer.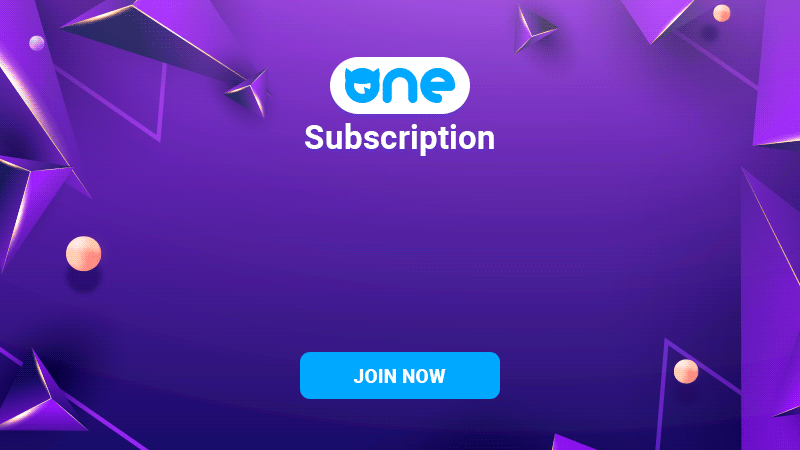 Is it worth buying?
It is only up to you. The easiest way to see what products you need, whether they are included in the subscription, and if the total amount of the products is less than $229. Thus, the subscription will be a profitable investment for you. Besides, you will get access to the ONE product database for the whole year and you will certainly download something else.
This offer will be useful to almost everyone whose professional activity is related to online — whether it is custom-made website development, web design or even Internet marketing. For instance, I plan to use it for blogging.
In addition, ONE has a full-fledged community on the Facebook subscription page. Here people share their experiences and tips. Some of the interesting information can be gleaned from the thematic blog. If you have any questions during work, contact technical support, they will definitely help you there.