Published on October 10th, 2022 by Rahul Kumar Singh
There must have been several instances when you wanted to take a quick note while performing internet research, but the unavailability of the right tool caused you to forget something very important.
Students do not want to miss the opportunity to record findings that are relevant to their assignment.
That's the reason they always keep their physical notebook with them. However, there's something that is way more efficient than your notepaper and that is an online notepad tool.
What is an Online Notepad?
An online notepad is a web-based tool that helps you record your important findings without leaving your web browser.
It is a great way to keep a record of your research. The tool comes with a variety of features to let you take notes efficiently and in a well-organized manner.
Who can use it?
The tool is equally beneficial for people belonging to different walks of life. Students can use it to write their daily tasks, reports, essays, and assignments. Freelance writers can use it for writing articles and blog posts.
Entrepreneurs can take advantage of the online notepad and save important points, ideas, and useful links to help expand their business or make the most of marketing strategies.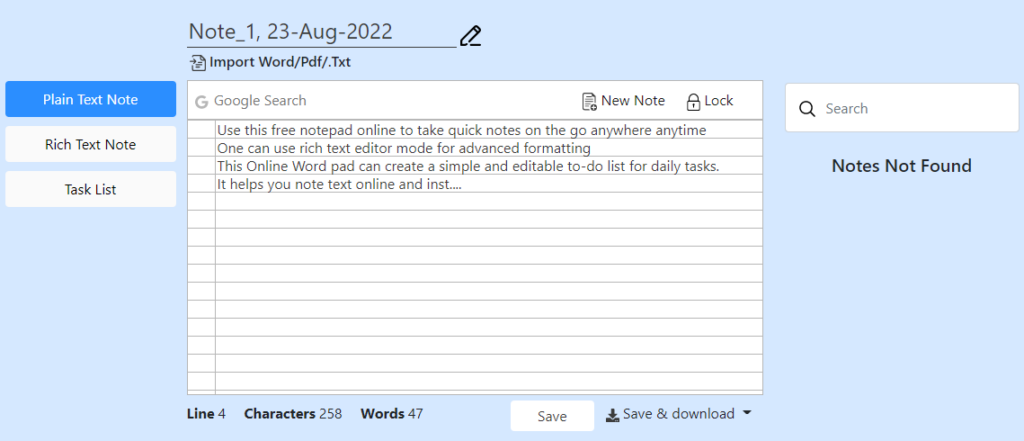 Researchers can record their findings and common users can use it as a simple daily diary to keep track of everything.
You can use it every time you write something, and it's great for writing down quick notes about recipes or shopping lists. It's easy to use, and you can set up your own categories if you want.
How does it work?
Simplicity is on top of the list when it comes to discussing the working mechanism of online notepads.
The website is easy to use and has a great layout. It looks just like a real notepad – the interface is intuitive, the text is clear, and there's plenty of space for your notes.
There's also a built-in Google search function so you can find information about anything without leaving the tool. This makes it easy to find information quickly when you need it.

You just need to visit the tool online using your smartphone, tablet, laptop, or desktop computer. The website works fine on all device types due to its responsive design and user-friendly interface.
Online Notepad Features
You have three basic note-taking features including:
Plain text note
Rich text note
Task list
Plain text note
As its name signifies, it comes with a basic text interface that allows you to record simple text. It looks like an ordinary blank page in your notebook.
There's a Google Search bar functionality on the top that you can use to search for things relevant to your project or task. You can name the file the way you want. You can also import an already existing file that might be in Txt, PDF, or Word format.
The plain text note mode lets you know how many lines, words, or characters you have typed. This is a wonderful thing if you want to write something while meeting the specified word or character count.
Rich text note
This is an advanced note-taking mode to help you take notes to the next level. It comes with a variety of editing features that will help you make your notes more organized and well-written.
First off, you have a drop-down that lets you choose from Paragraph, heading 1, heading 2, and heading 3. You can choose the desired option for headings and general text body.
The next option lets you choose the required text size from the given dropdown menu. You can choose from tiny, small, default, big, and huge.
The third feature in the rich text note allows you to select the desired font style. The most prominent ones include Georgia, Verdana, Arial, and Times New Roman.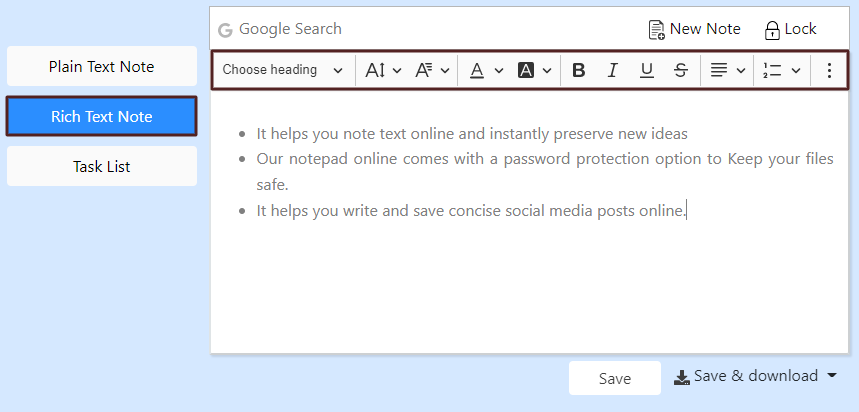 You can also choose your favourite colour for the text or highlight it the way you want. Other prominent features that you can use include numbered lists, bullets, bold, italics, and Underlining.
Text alignment is another excellent thing that you can select to better align your write-up. There are options to add images, links, tables, and quotes too.
Task List
There could be several instances when you want to create task lists to organize your to-dos. The online notepad tool has a dedicated interface for creating task lists on the go. You just have to pick up this particular feature to start adding tasks right away.
You just have to type your tasks and press the enter key to add the next one. Following this process, you can add as many tasks as you want without falling short of space.
Feel free to add tasks the way you want because you can always move them up or down using drag and drop functionality. Added something wrong or irrelevant? No worries at all as you can also delete tasks one by one.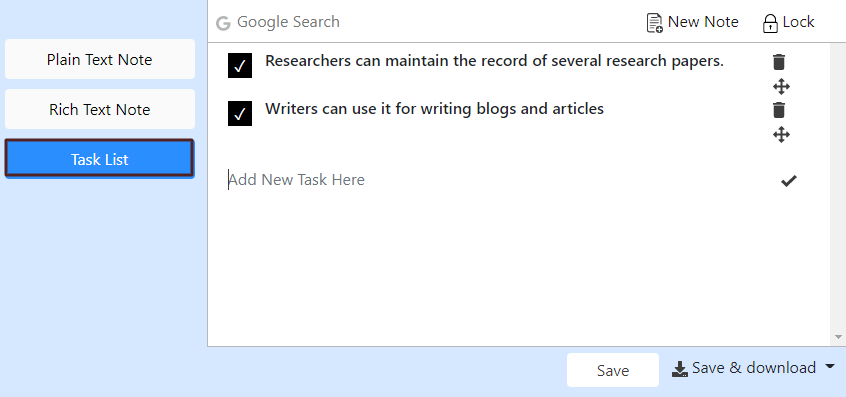 Once you are done adding notes, you can export the file in PDF, Word, or Txt. In the top right corner, there are options to lock the file or create a new note.
Why an online notepad tool?
It's easy to use: You don't have to download anything, and it's easy to create and save notes using your smartphone, tablet, or personal computer. The tool works online, so all you need is a device connected to the internet.
It's private: You can add notes, contacts, or files directly from your phone, so no one will know what you're writing unless they see it. You create notes and save them on your device. They will remain completely safe because the tool protects user's integrity and privacy
It's collaborative: You can share notes with your team or even work with other people on the same project. However, this feature does not work online. You can only share a file after saving and downloading it to your device.

You can share your notes with others by emailing them or uploading them to a cloud storage service like Dropbox or Google Drive.
It's accessible anywhere: The tool works on all devices and can be accessed from any web browser, so you don't need to worry about accessibility.
It's free: That means there are no costs associated with using it, so if you want to try out all these benefits for yourself, then this is definitely the way to go. A reliable note-taking tool without spending a penny.
Helps you keep records: You can keep a record of your thoughts, ideas, and notes, which means you can access them anytime, anywhere.