Are you looking at Animaker Review before you are going to Purchase Animaker plan? then this is the best article for you where you know Everything about Animaker.
Animaker is the online video maker tool that helps you to make an amazing animated video under the minutes. In Animaker you can create the video using Drag & Drop Builder. Animaker create animation, Inro video, Youtube Video, Facebook video, and more.
What is Animaker?
Animaker is the online video creator tool. You can create Full HD, a vertical video and create as 2D, Infographics, Handcraft, Whiteboard, 2.5 D, Typography.
Which type of video you can create using Animaker?
You can create any video using Animaker see all the main sources where you create a video:
Facebook Video
Advertisement Video
Youtube Video
Instagram Video
Intro video
Explainer Video
Cartoon Video
Birthday Video
Video Presentation
Text Animation
What is the Pro Feature in Animaker?
Animaker Provide many pro features like Record video, Multimove, Curve, Camera in, and Camera out to add pro-level animations to your video. You can create an animated video for engaging people in your business.
Can you add the external source in your video?
Yes, you can add your external source in your video like Text to speech, Direct Voice Recording, and Import Custom Sound, Track, and voiceover.
Is Animaker Free?
No, Animaker is not free. Animaker Create video like a professional if you want to create a video using Animaker for learning purposes then Animaker provides free sign up and you can also create amazing videos and export them, but in free plan exported videos come with a big watermark.
Here is the package provided by Animaker: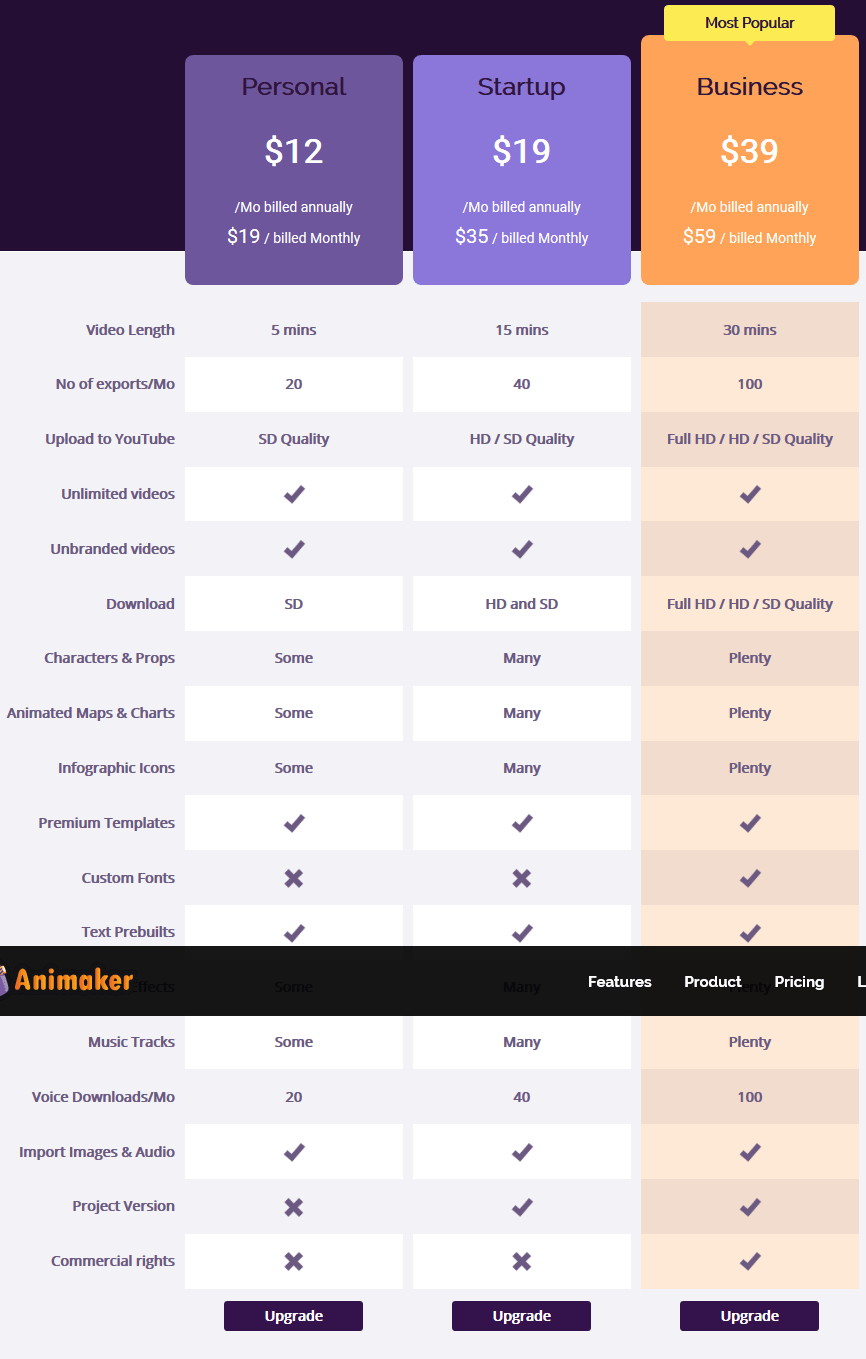 There are three packages available first is Personal 12$ Second is Startup 19$ and the third is $39. You can choose your Best Plan Regarding your needs.
I love Animaker because I use Animaker
Also read – Online Photo Editor Review
Conclusion
If you want to create a video to attract visitors either on youtube or facebook then Animaker is the best tool that you can use and grow fast.