Last updated on August 21st, 2019 by Rahul Kumar Singh
Are you right about to start a home based web design business?
That's quite a serious and responsible decision that requires notable time and effort investment.
There are multiple nuances to handle in order to make your business a success and here is why.
Having the desire to start the web design career only is not enough to reach the objective.
You have to realize what goal exactly you plan to achieve, what skills you need to make it happen and what budget you are ready to invest in the project.
You need to be diligent, straightforward and goal-oriented to start a career and you won't go without the entrepreneurial streak to launch and successfully manage your startup.
Get ready to face numerous challenges on your way to success and make vital decisions that might affect the result.
While browsing the success stories of some website developers, you may initially think that starting a business in this niche is quite easy. That's a misconception.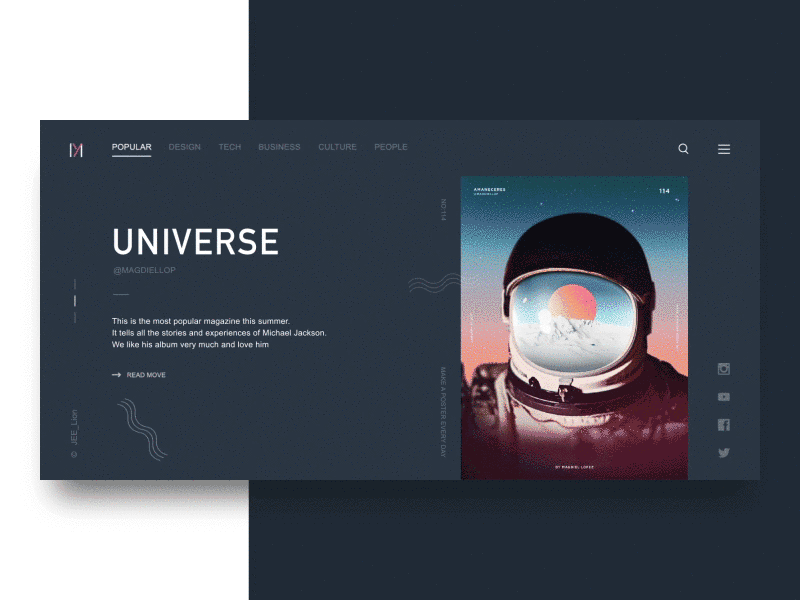 How to Start a Home Based Web Design Business
Apart from having web design skills and experience, you need to understand the basics of a business foundation to be able to develop a full-fledged business startup plan.
Here is a shortlist of nuances you should consider when starting your home-based web design career:
Realize Your Potential. Ask yourself, if your skills and experience will be enough to get started with ease. Think about the strong and weak points you may have and the impact they can make upon your business.
Explore Market Trends. Exploring contemporary market trends is a must. Take your time to discover the needs of the audience you plan to target. If you are sure that your services meet their requirements, this is a really good sign.
Watch the Competitors. It goes without saying that web design market features strong niche competition. One of the success secrets will correspondingly imply the awareness of your competitors' potential.
Decide on the Products/Services You Plan to Offer. Do you plan to deliver web design services locally or globally? Are you going to charge hourly, daily or monthly rates? Are you looking for long-term projects or prefer to take part-time tasks? These are only a few questions that will help make your job offerings more detailed.
Develop a Business Plan/Strategy. A detailed business plan or a thought-over strategy will help you get ready for your web design business startup. This is where you will specify the types of offerings, price list, potential deadlines for certain tasks and other suchlike nuances you consider important.
Pick the Best Web Building Tool. This is where you should get started. Fortunately, there are trusted web building tools that will help you launch a professional website. Website builders that come with the White Label feature let you eliminate the necessity to discover web design basics. They grant a possibility to use your brand name in combination with their functionality to start a profitable web design business.
Get ready to meet IM Creator and uKit – two powerful website builders that are the renowned leaders of the contemporary web design niche.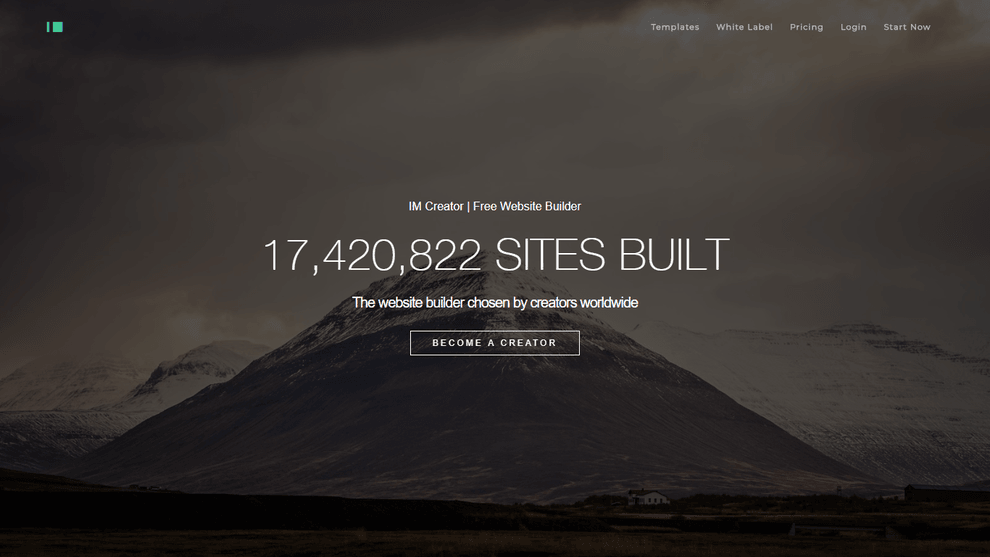 IM Creator – is a website builder, which has much to offer users, who are going to start their web design career.
The undeniable highlight of the system is its White Label feature, which is a great solution from the point of view of the B2B perspective.
The tool works great for entrepreneurs, professional web designers and web studios that wish to use the system under their own brand names to make use of its entire feature set.
It unveils CMS options for internal corporate application and lets you create an unlimited number of websites with the individual domain name, hosting, advanced content editing and sharing options.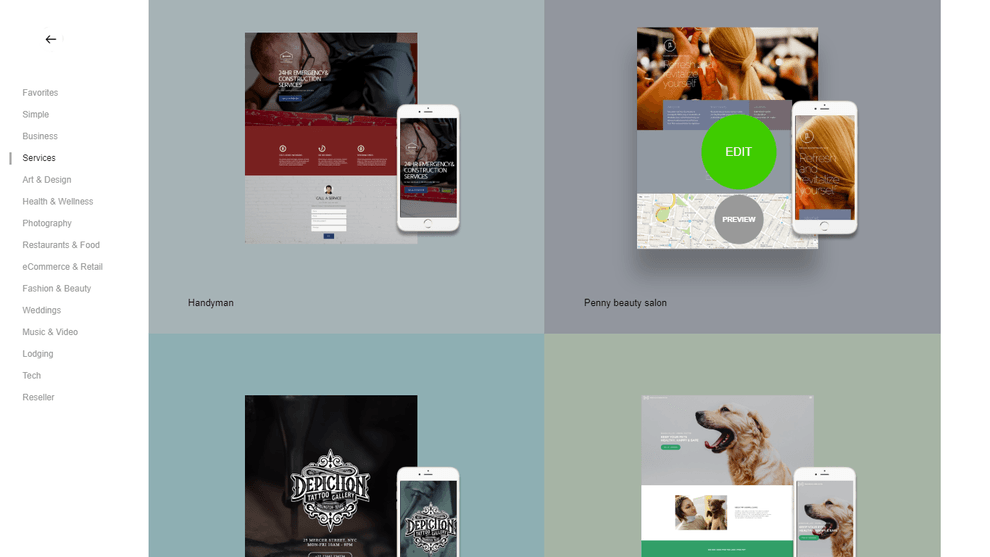 IM Creator White Label is the top-notch destination for website owners willing to provide their customers with a complete set of website, domain name, hosting and email available all in one place.
IM Creator-based websites created with the tool will fully encompass your brand style and identity, starting with logo design and up to the color palette and personalized integrations.
Just pick a template (alternatively, you can choose a blank page) and integrate media files, texts, google maps, widgets, HTML and other required elements.
As soon as the project is ready, you can further offer it to your customers so that they could be able to customize it with regard to their needs.
Mind that all the website launched with the website builder are hosted powerful and secure Amazon servers, but it is up to you to select another hosting provider, if necessary.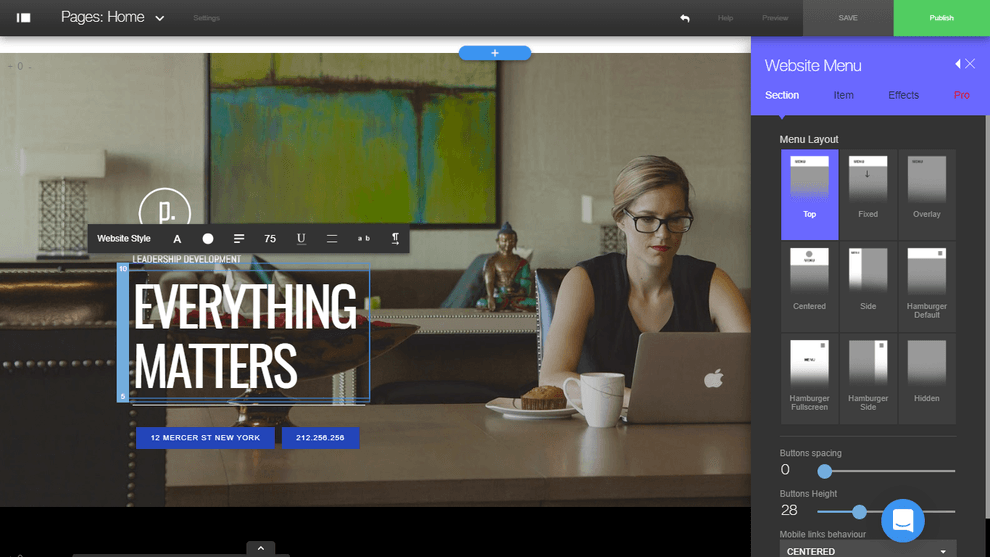 The White Label tool comes with 24/7 customer support provided by IM Creator assistants, who are always ready to answer your questions and handle all the issues you might encounter on any stage of website creation and management process.
Additionally, the tool ensures safe payment transactions that are secured by the integrated SSL Certificate.
The cost of the White Label feature constitutes $350/year and there is a 14-day money return guarantee for users, who will decide to look for another alternative.
Thus, if you already have your own brand and customer flow, IM Creator White Label is a great bet for your professional advancement.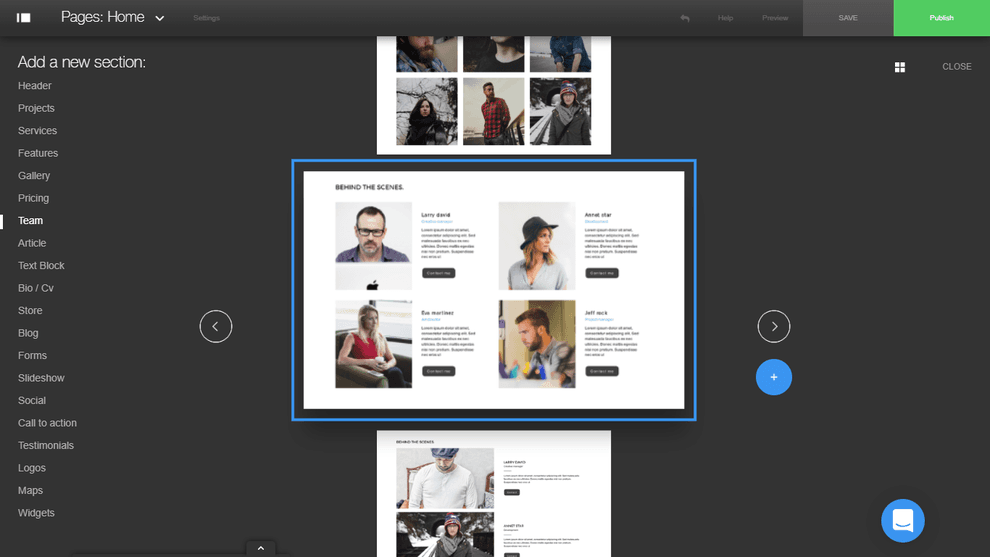 IM Creator also stands out from the crowd due to its affordable pricing policy, availability of a free plan for people, who use it for non-commercial purposes, convenient WYSIWYG website editor as well as powerful tools that allow creating decent websites in almost no time, irrespective of the web design expertise a user has.
Here is the list of the most distinctive features of the service.

eCommerce Engine – IM Creator eCommerce platform will make it possible for a website owner to quickly create a web store and fill it with a standard feature set. The project can be further introduced to clients, who will individually customize it with regard to their needs and the use of special coding knowledge.
Blogging – With IM Creator, a web designer can add a blog to the website, if needed.  The system allows choosing blog types, templates, news feed structure options, and other parameters. As soon as the blog is ready, you may offer it to your client, who will adjust the other settings. It is possible to embed videos and other media files, select background, layout and other options that contribute to blog design and performance.
Integration Options – The website builder allows integrating popular social media links, Google Maps widget, Google Analytics and other add-ons that make it possible to share website content on external platforms for extensive customer integration.
Multilingual Support – IM Creator comes with multilingual support, which lets web designers create and manage the required number of language versions based on their clients' needs.
Rich Template Collection – Designs the system offers are among the best in the modern market. They feature high quality, absolute customizability, and responsive nature. IM Creator templates are divided into thematic groups based on the topics they are related to. This simplifies users' choice and cuts down the web development time. The service also offers multiple design customization tools to give the selected theme professional look and high-end performance.
SEO – Websites built with IM Creator are well-indexed by the search engines and the system allows filling out the required meta tags for all pages, upload website favicon, integrate Google Analytics, etc.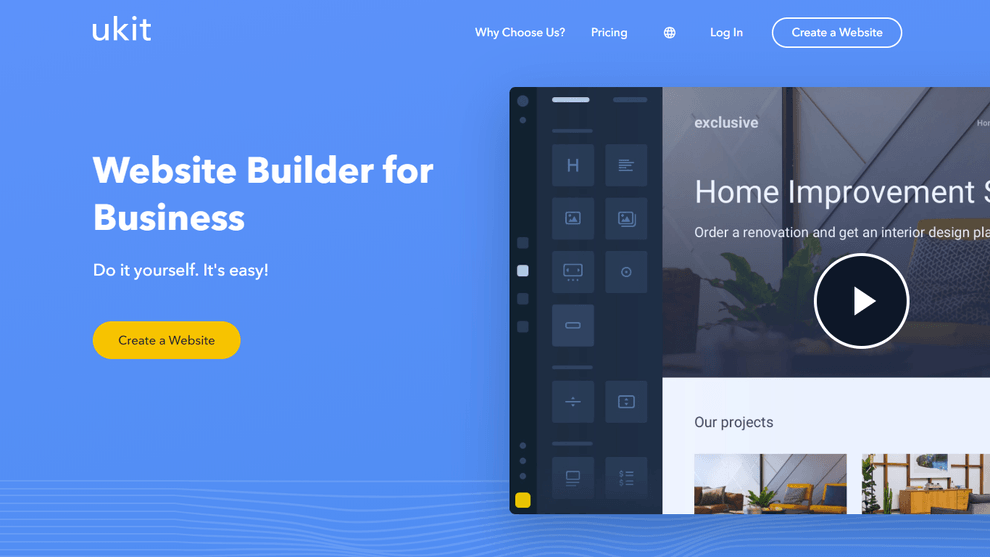 uKit – is a website builder, which is rightfully considered the most affordable, simple and intuitive website builder.
The major area of application of the system goes down to the development of small and medium business websites and this is one of the main highlights of the website builder.
uKit website builder now makes it possible to join the Affiliate Program, which lets you drive new customers to the system and get financial revenue for that.
This is a great solution for freelance web designers, owners of niche web communities and websites, as well as professional webmasters, who are involved in website development, creating custom, made websites for their clients.
Contemporary website builders are the best way to start your own web design business. They have a full feature set to create and manage modern websites in the easy way both for web designers and their clients.
Howard Steele, https://superbwebsitebuilders.com
The website builder offers great terms to the users of the Affiliate Program.
These include 30% of payments made by users, access to the affiliate control panel, rewarding cooperation terms, availability of codes, special offers, bonuses, and unlimited profit generation options.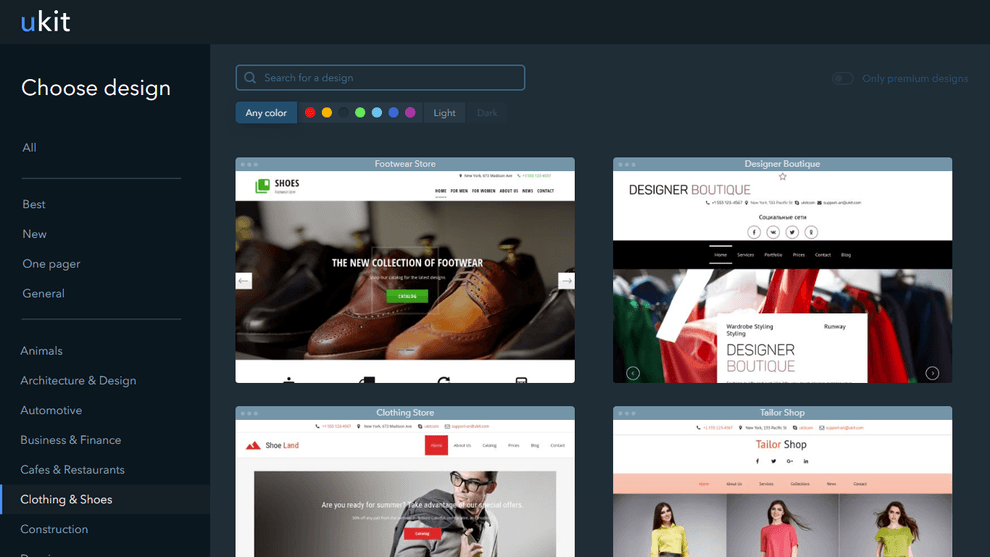 uKit stands out from the crowd due to its impressive feature set, which ensures easy web building process that does not compromise with the high-end result.
Have a look at the most remarkable features of the website builder now.
Responsive Designs – uKit has a collection of free readymade responsive designs that fall into niche categories and are 100% customizable. This means that you can select the initial website template and adjust standard settings to present the project to your customers. The intuitive WYSIWYG website editor that comes with a handy drag-and-drop feature will make it possible for your clients to independently customize the project with regard to their needs. If they are not satisfied with the initial template choice for some reason, they will be able to switch the theme without your assistance, which is also a notable advantage.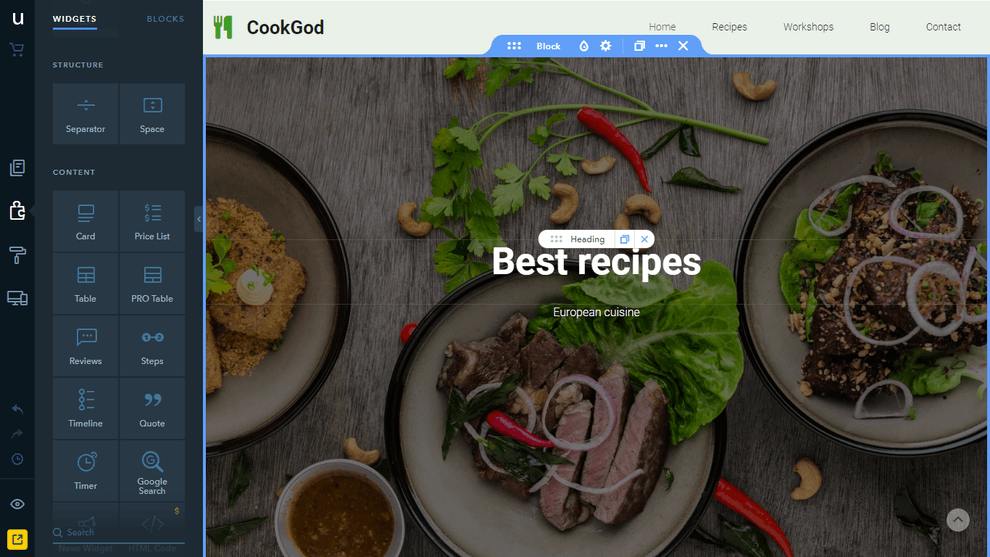 eCommerce – uKit provides two web store building options based upon the requirements and preferences of a client. Thus, a web designer can create an eCommerce website either by integrating the corresponding eCommerce widget to a website or by connecting the Ecwid plugin that will give a web store distinct eCommerce focus.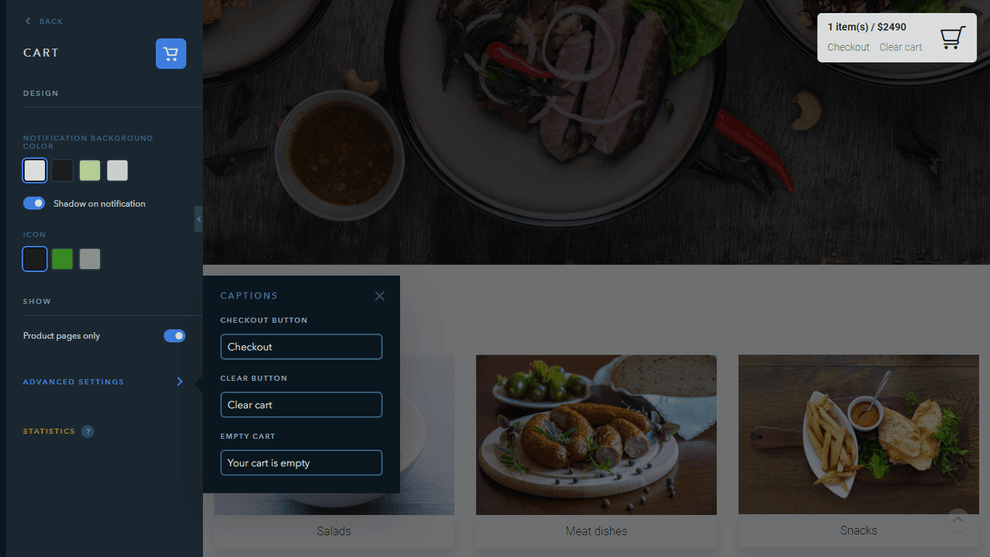 CRM Integration – Manu web designers appreciate an opportunity to work with uKit due to its AmoCRM Integration option. This is an intuitive and quite easy system of client and deal accounting. Its integration into a website will help your clients control their sales performance and hold effective promo campaigns.
Conclusion
There is one crucial thing you should realize when getting ready to start a home based web design business: that won't be simple at all!
Even if you have previously been involved in website development and possess coding skills or experience, you'll still encounter lots of problems on your way to success.
Actually, you can launch your business anytime, anywhere and anyhow – just make sure you have a decent website to showcase to the target audience.
It will be the key to your professional advancement.
IM Creator and uKit are two powerful website builders that can help you get started with ease.