Published on November 19th, 2019 by Guest Author
Starting a powerful website is much easier nowadays due to the wide variety of services available on the market. Basically, there are two options for those who need a website for their business: to hire a web pro or web studio or to create a website themselves. Even though website building on your own used to be something only whizkid coders could do, now, thanks to website building platforms everyone can step into webmasters' shoes. The only question is which one to choose.
If you made a hasty decision and went for a platform without researching the whole market, it may cause problems. For example, some users choose world-known WordPress and sometime later realize this service doesn't meet their needs or lacks desired features. The worst thing here is that transferring your WordPress site to another platform is quite a painful process, to say nothing of the fact that you put so much effort and invested time and money in your project.
So if you search the net looking for that website building service, you will see that most sources give more or less the same top best platforms.
Now, let's find out what's good and what's bad about one of the top-ranked solutions — uKit — to understand if this product is right for you.
Is uKit Ideal for Your Type of Website?
First and foremost, before getting ready to swipe your credit card, it's a good idea to consider what kind of site you want to build and what kind of functionality you require.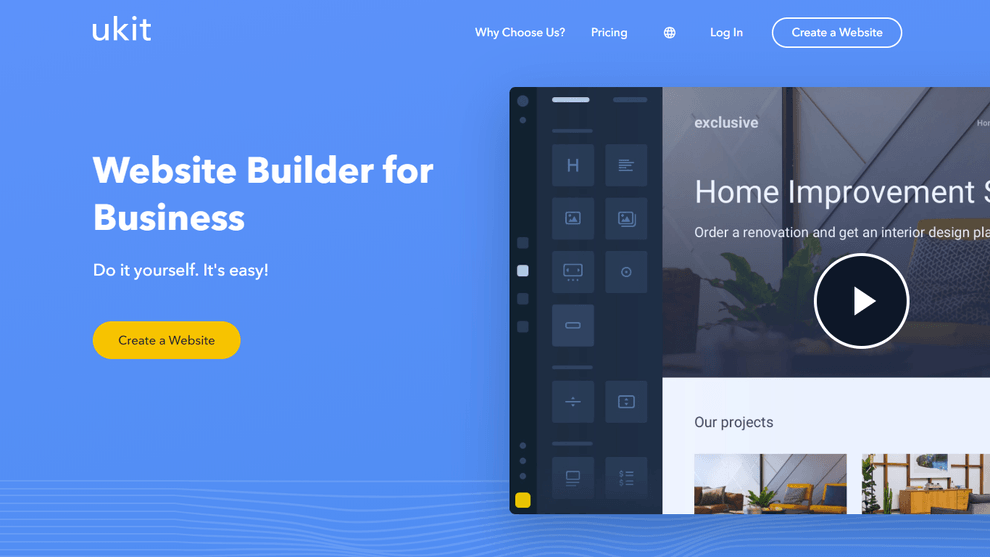 uKit just so happens to be a service that covers plenty of different purposes such as business, eCommerce, Personal. Whatever your niche is, you are sure to find uKit templates, tools and features to match.
Business (especially small business) websites are uKit's bailiwick. There are numerous templates to choose from, designed specifically for different industries: car repair services to beauty services, real estate to emcee, education to travel, software to sports, food to dancing, farming to fashion and so on. Everything is taken on board. uKit also has a batch of wonderful business features like subscription forms, email marketing, promotion wizard, SEO tools, built-in statistics, etc.
If you're about to start an online store, uKit has all the necessary eCommerce functionality to create your own stunning online store with no fuss. The platform lets you sell any kind of products and services, set up and edit shipping methods and delivery price, customize the design of the cart, set up feedback forms, indicate the price and so on. Payments can be made in 11 currencies: US Dollar, Euro, Polish Zloty, Georgian Lari, etc. In addition, you can connect and configure such payment methods as bank cards, online banking, SMS, PayPal, payment kiosks, bank and post branches, and more (in total, over 100 methods).
Personal websites are another uKit's strong point as it provides various beautifully designed templates and tools for those who are into the creative field such as photography, art or something like this or just wants to start a blog.
So as you can see uKit covers almost all spheres and now it's time to scratch beneath the surface and discover what features and tools this platform offers its users.
Design Templates
uKit templates will make your website look professional as though a team of web designers had a hand in it. There is a rich collection of themed templates (over 350!) and all of them are bang up to date with the latest trends and require no design or coding skills at all.
As a bonus, there are separate templates for landing pages that will facilitate the process of creating a website: you won't have to delete unnecessary pages. Nevertheless, you can select a multi-page template and remove unwanted pages if you haven't found the desirable template in the one-pagers section.
Tools and Features
uKit a top-notch wieldy interface. As soon as you sign up and select a website design and a domain name, you go directly to the dashboard. It's a matter of minutes to get the hang of it due to the intuitive drag-drop editor.
Based on one of the best samples of visual editors, uKit provides a user with an opportunity to design an appealing website from scratch without any preparation stages in 1-2 hours only. This is the major benefit of the website builder.
Howard Steele, https://superbwebsitebuilders.com
Structurally, the uKit interface consists of three modes of work: Site Pages, Builder, Design, Preview Mode.
In the Design Mode, you can transform, add or remove ready-to-use blocks, change the pictures, colors, fonts, page order, configure the background, create a parallax effect for the pictures and more.
The uKit builder also lets you turn on a website version for visually impaired. This feature will be appreciated by those who are about to create a site, for instance, for a public institution like a school, academy, university, etc.
Moreover, in case you realize the template you had opted for doesn't fit your needs, you can change it anytime and its content will be preserved!
The only fly in the ointment concerning the design options is a quite limited set of color schemes that each template comes with. To create your own custom color scheme or fonts, you will have to switch to the Pro Plan.
The layouts are absolutely mobile responsive, i.e. your website adjusts to fit desktop, tablet, and mobile screen sizes. You can customize your site for any device in the Preview Mode. Plus, there, you can hide the desired blocks and header/footer if needed.
The Pages Mode lets users add or delete pages, change their order, duplicate them, edit their content, fill in the meta tags, etc.
The Builder Mode is the backbone of your website. It contains plenty of widgets such as live chat, callback, slider, price list, and more. Additionally, you can use pre-set blocks that already contain a number of widgets to implement a certain function like contacts, goods, portfolio and so on. This way you spend less time since you don't have to enrich each block yourself.
Speaking in more detail, for blogs, for example, uKit offers the News widget, scheduled publications, social media buttons, and the comments widget. Besides, you can import posts from your Facebook group (if you run one) and manage the content on the website and on Facebook.
For online store sites, uKit provides built-in Ecwid Shop and the Product, Card or Price List widgets. You can choose the currency for store items, customize the order form for buyers, set up shipping methods and delivery price, configure payment methods, and so on.
On top of this, in that mode, you will also find the Cost Calculator widget to create a form for calculating the cost of products and/or services. The form includes an online payment feature and sends you a message once a new purchase is made. The fact that customers can find out the total price themselves and in a few minutes is sure to engage more clients.
Another feature that is a must-have for those who create a one-pager is the "Back to Top" button. It's often used for trackpad or touchscreen users because physically scrolling to the top can be a pain on those devices. And in browsers with small scrollbars, it's much easier just to hit a button. As for mobile users, their scrollbars often hide, and no one wants to spend ages swiping down the screen.
To prevent hackers from stealing private information from your website, an SSL certificate is automatically enabled for all uKit websites that have a custom domain name.
If you want to create a website for free then try this guide
SEO
When it comes to SEO, uKit keeps pace with its competitors and offers a wide range of SEO tools for its users helping them rank high on Google.
To cut to the case, you can
configure meta tags, website indexing and canonical link to pages;
use the built-in Promotion tool that shows to what extent your site is optimized and change your site accordingly;
add your website to Google Search Console to allow the Google search engine to find and index your website faster;
connect Google Analytics service to help you collect and analyze information about your site visitors;
set up SEO for images by adding title and alt attributes to make your images show up in search engines.
Needless to say that SEO experts have more tricks for boosting a site under their belt but the SEO features available on uKit are definitely enough for a good start.
Pricing
So, as you can see, there are too many features to list, it's better to explore them on your own, and 14 days trial period is enough to decide if uKit is for you.
In case you come to the conclusion uKit is your thing, it offers four plans that you can see on their website. The Minimal plan provides a big themed design library and secure hosting for your website. The Basic plan adds advanced statistics, a Facebook pixel and access to premium templates to the features of the Minimal Plan. eCommerce, apart from the Basic Plan features, has tools to create an online store. Pro offers such creative and coding possibilities for pros as HTML code editor, Google Tag Manager, and custom color schemes.
uKit website builder was designed as a simple tool for beginners who want to build a site without hiring professional web designers and programmers. The platform implements the latest technologies to put ease into the building process.
Malcolm Thomas, https://mmthomasblog.com
You can benefit from paying in advance for three months and longer since you get a discount.
Summary
uKit is one of the biggest players in the website building landscape. If you are about to create a sleek and quality website, uKit is the answer you are looking for. See the results yourself with the trial and share your opinion in the comments below.