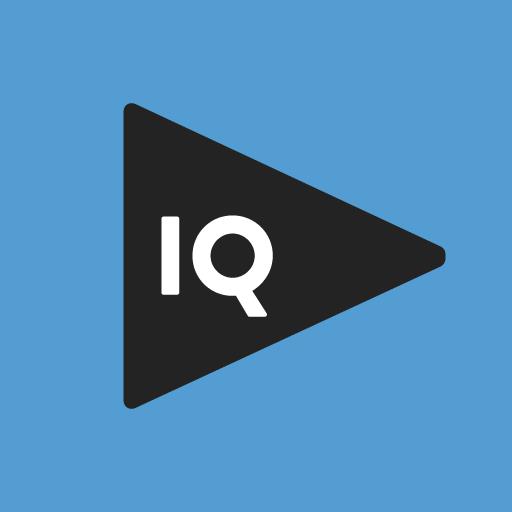 VidIQ is a one-stop resource for SEO and keeping track of your YouTube channel's performance.
Use the below link to grab the VidIQ free trial of a pro account and use the coupon code given below.
---
Are you looking for a VidiQ pro or boost trial? If yes then this article is especially for you because in this article I explained how to get vidiq pro or boost free trial for 30 days without paying.
Most YouTubers use VidIQ on their YouTube channel to grow faster but VidIQ is not completely free. Some users can't try the VidIQ premium plan because of pricing.
So today in this article you'll learn how to get VidIQ free trial.
What is VidIQ?
VidIQ is a certified Youtube channel management toolkit. VidIQ comes with many features that help youtube creators make their work simple and easy. The best feature of VidIQ is it comes with a free plan for beginners.
VidIQ Free Trial Features:
VidIQ comes with many features for youtube channel management and growth. Some of the popular features are listed below:
A scorecard shows you all your youtube analytics in one place for motivation and knows how your channel and video are performing.
Keywords tools give you an idea about any specific keyword and provide 1000+ related keywords using the youtube autocomplete feature. You can also use a free youtube tag generator to get keyword ideas.
Daily ideas are an AI idea-generation tool and it helps you get in new ideas ready to prompt your next video.
Competitor analyses offer detailed information about your competitor, what topic your competitor is covering what their main keyword and more is. You can also use a youtube tag extractor to check the keywords/tags of any youtube video.
Trend alerts offer performance about a keyword and how many views competitors getting from trending keywords.
Compare views feature allows you to compare channel average or existing with a new video to get an idea of how the video is performing.
Productivity tools provide the ability to bulk copy cards and end screens and also edit cards & end screens.
Auto thumbnail generator gives you your custom thumbnail editor. You can use the thumbnail editor to add text, shapes, and custom images and even make a thumbnail template
Channel audit shows you how your content is performing, what is working, what is not working, and what problems need your attention.
Real-Time Stats Bar shows your total views, specific video views, and channel watch time for the last 7 days in real time.
Achievement gives you another way to celebrate your youtube channel growth. You can share or download achievements based on subscribers, views, uploads, likes, hours watched and comments.
Here is how to get VidIQ Free Trial.
The first step I have for you is to click here to go to the VidIQ page with a free trial coupon. You will see a page like this.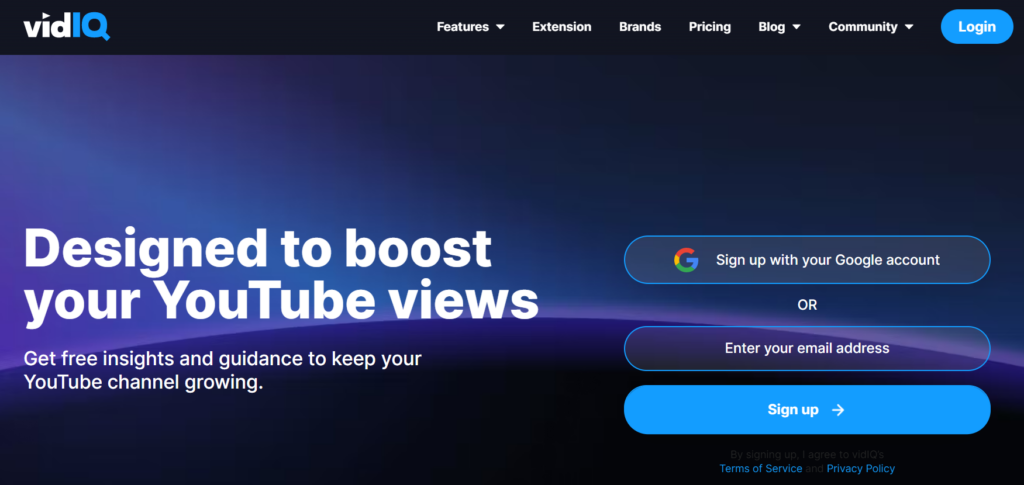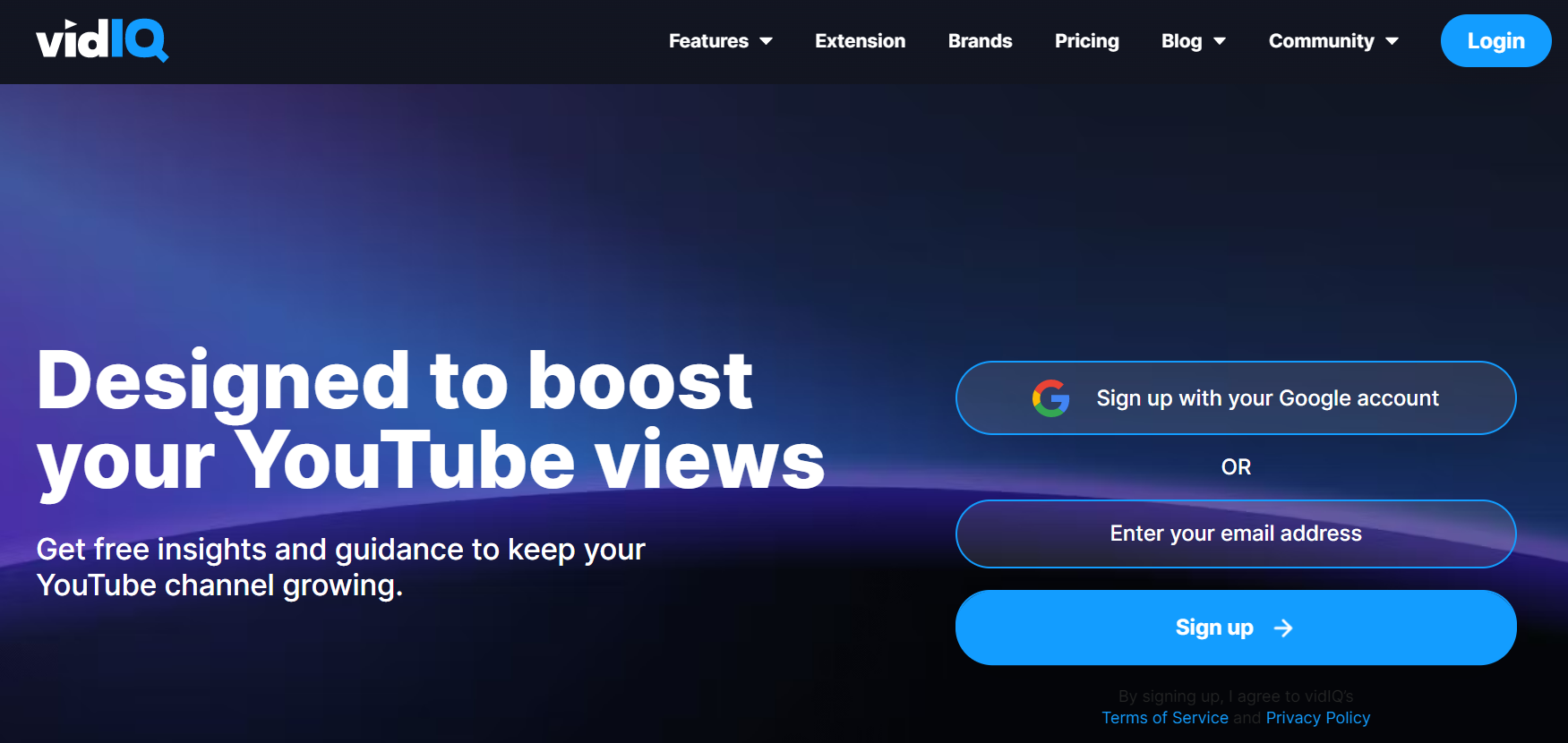 The second step I have for you is when you are at the VidIQ homepage using the above link, if you have an account then log in, and if you don't have an account then signup and add your youtube channel.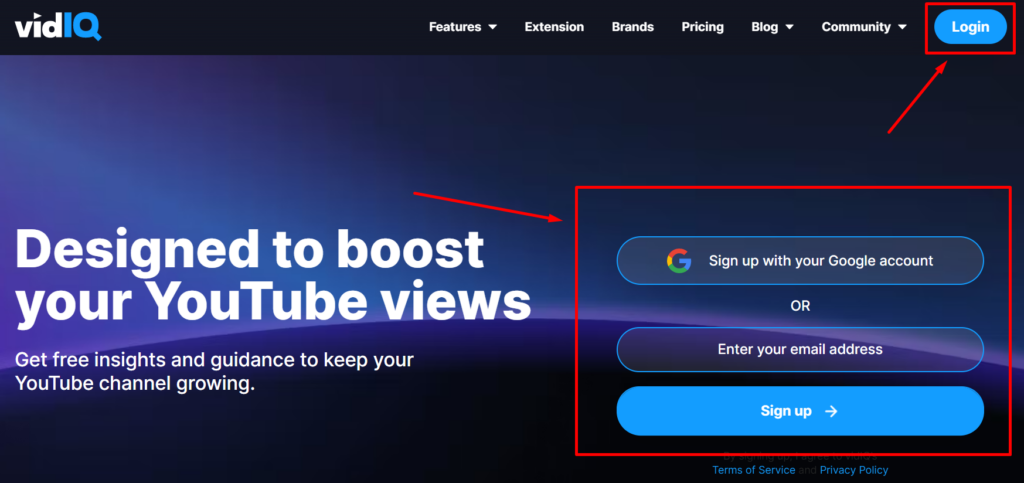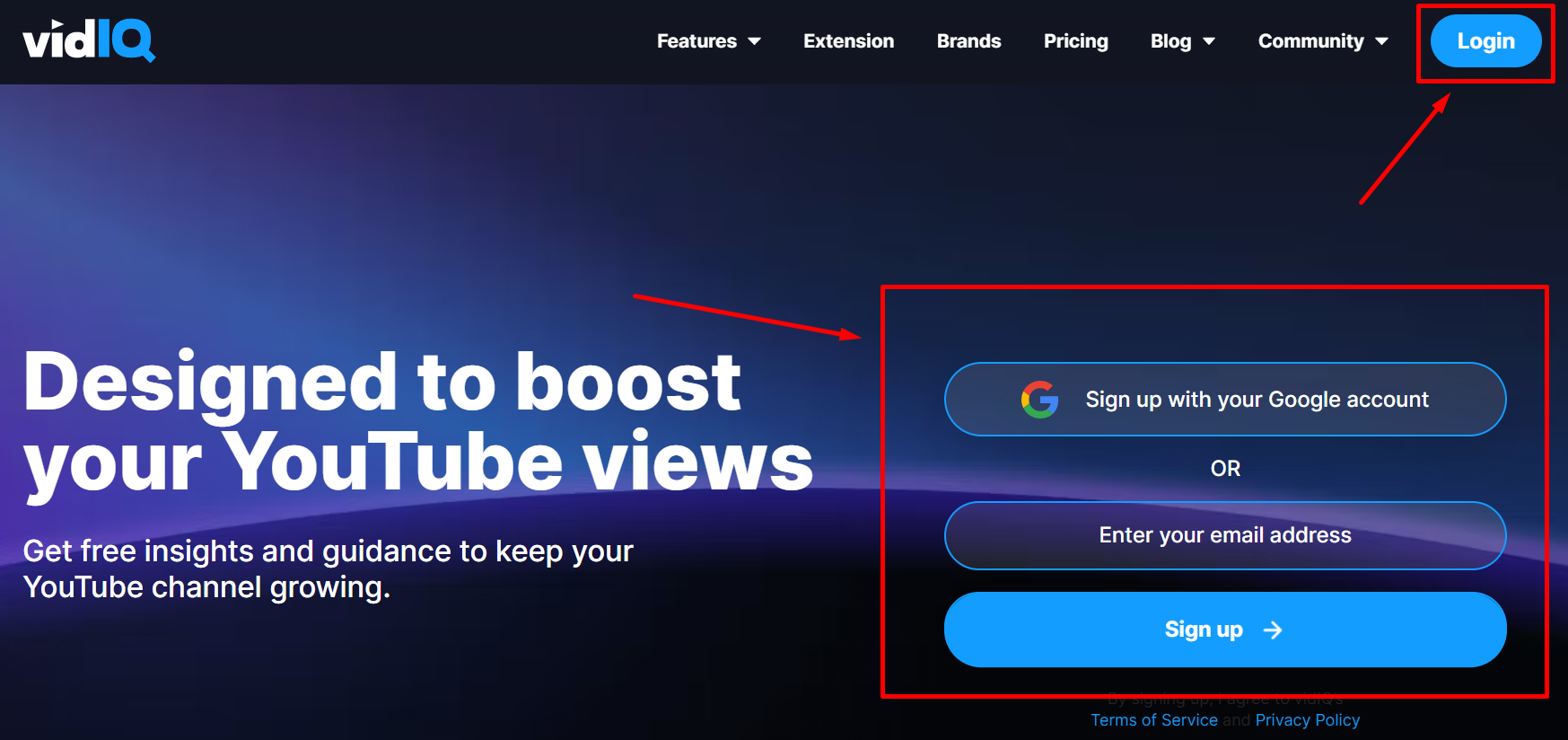 The third step I have for you is when you logged in to VidIQ and after following all the basic steps you will be redirected to the vidiq dashboard. Now click on the upgrade button (located on the top navigation). If you did not find the upgrade button then click here to directly visit to upgrade page.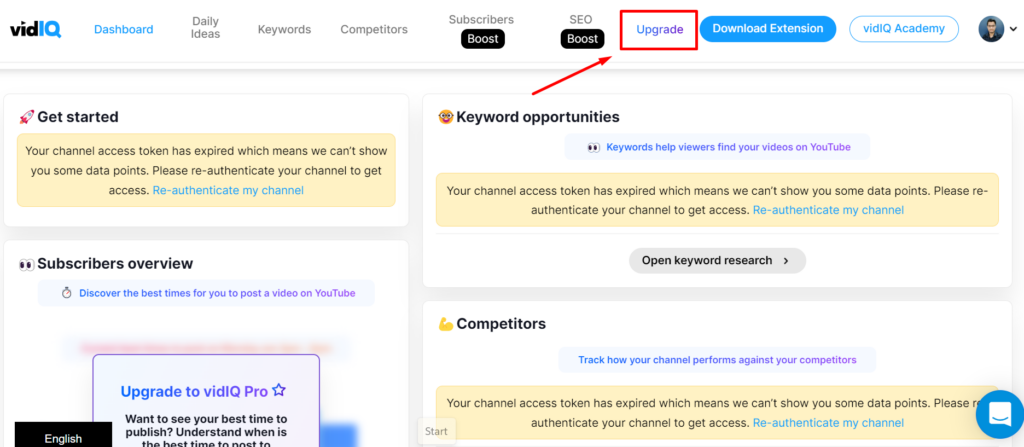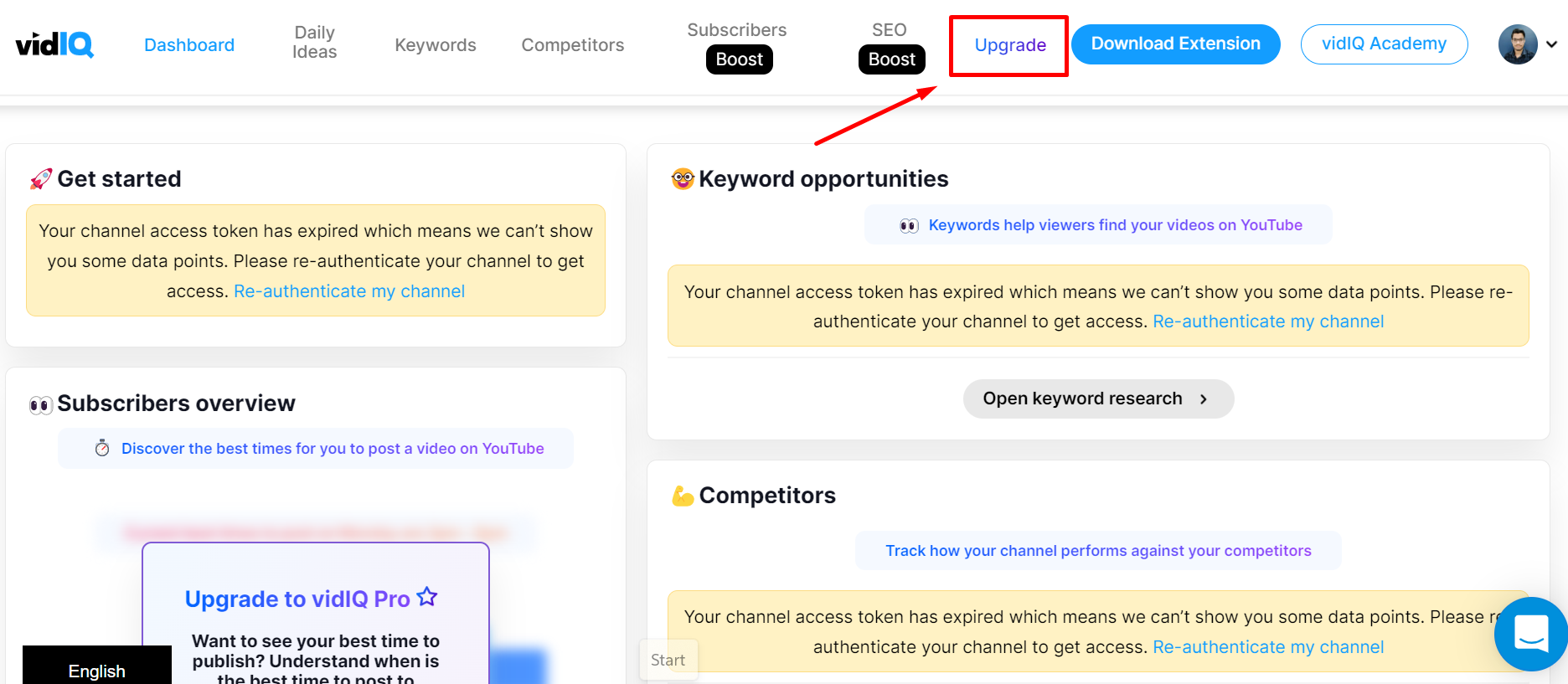 The fourth step I have for you is when you are on the upgrade page. Now you need to select the right plan to continue. If your channel is new then you need to click on the "upgrade to pro" button.
Note: This free trial works on pro and boosts both plans.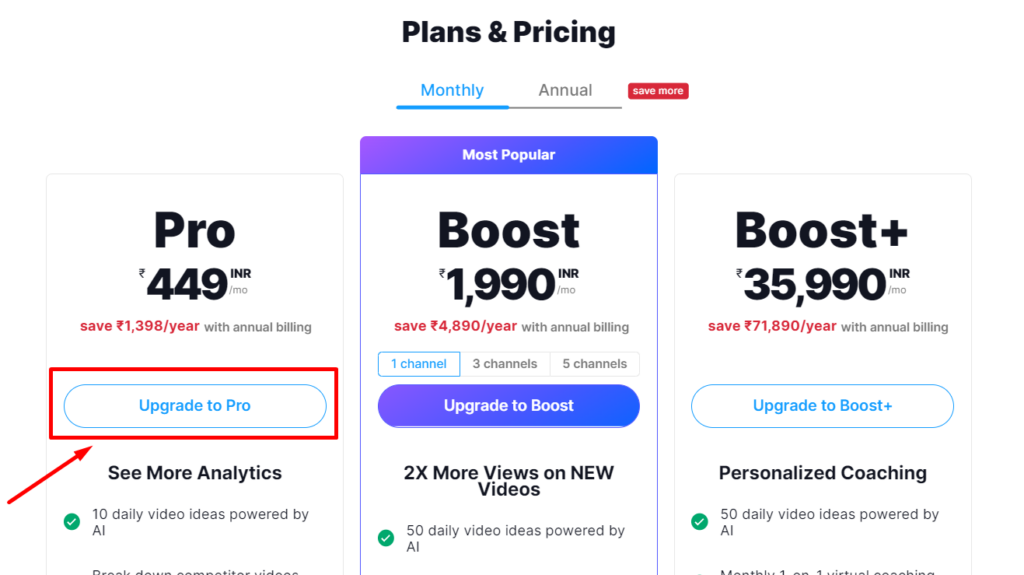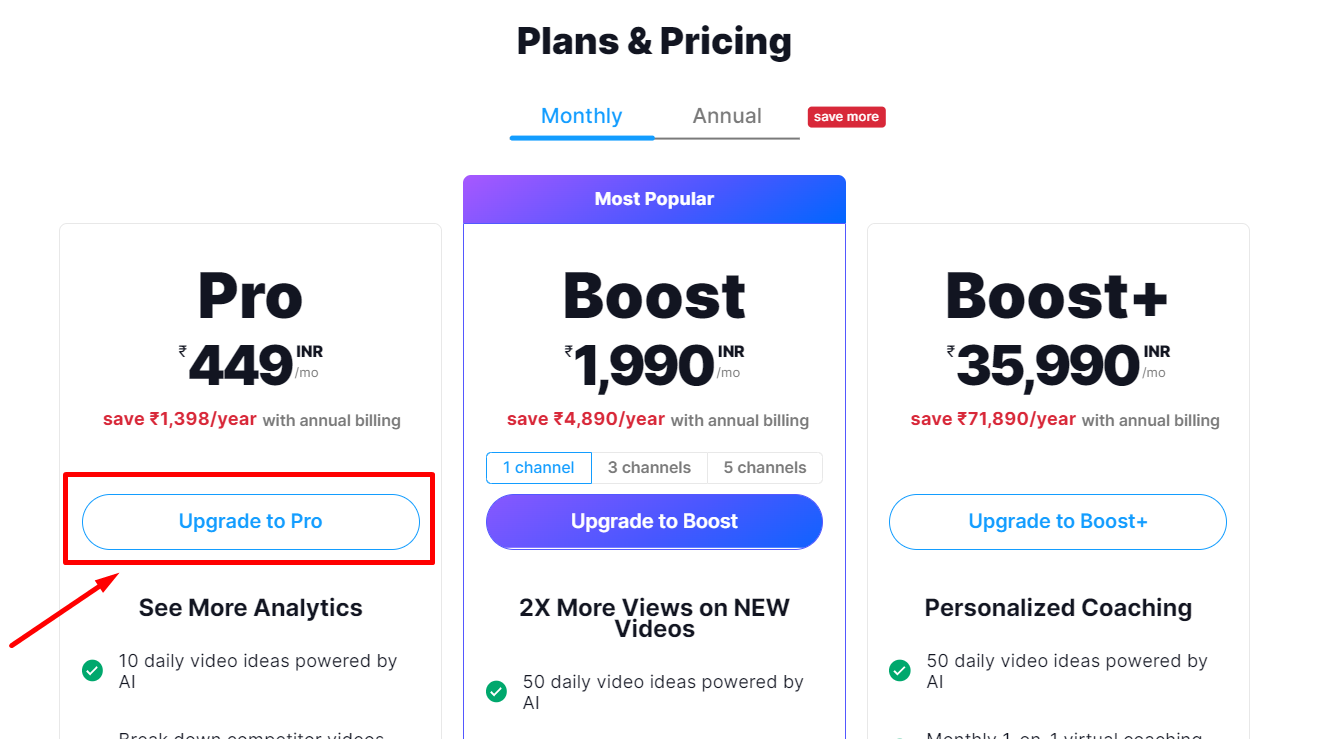 5. Click on have a promo code
The fifth step I have for you is when you are on the payment info page now you need to click on the promo code button and don't forget to enter your credit card details.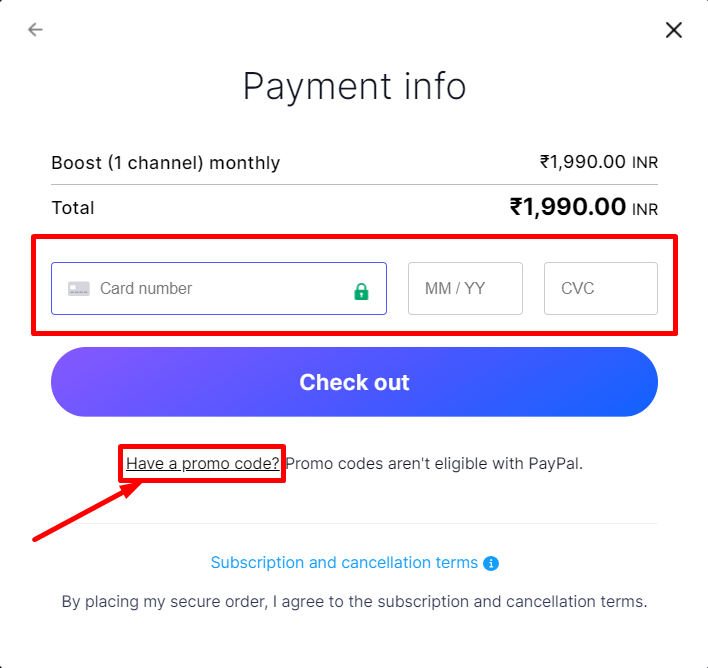 The sixth step I have for you is after filling in credit card details now you need to enter the promo code – maytheviewsbewithyou (Don't forget to open VidIQ via this offer link) and then click on the checkout button.
Note – Use this link (if you didn't follow all the above steps) to open VidIQ then apply the coupon code otherwise you'll not get a discount.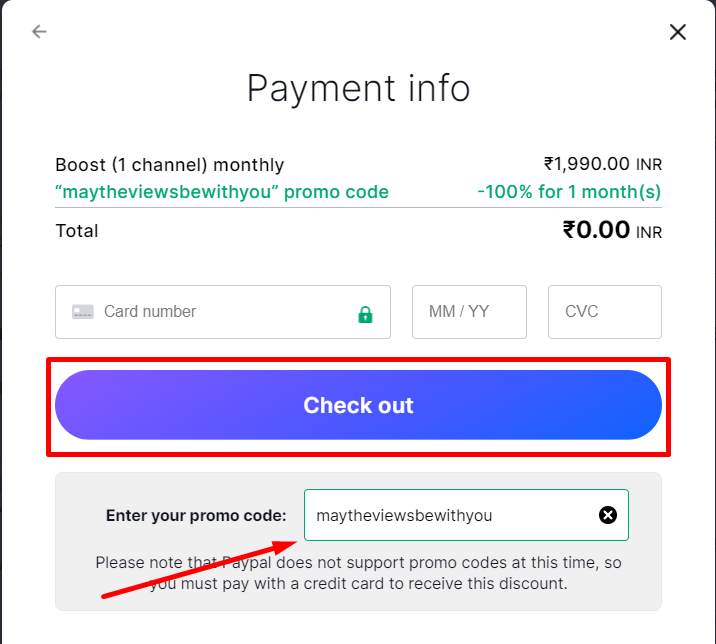 If you follow all steps correctly then you will get a 30-day vidiq free trial.
Notice – 30 days free trial is only available for some users and for the first time. If you already used this free trial then don't worry you will get 35% OFF for 3 months on vidIQ Pro or Boost monthly plan by entering the "HUBSADDA" promo code.
Also, read – Tubebuddy Free Trial
Conclusion
VidIQ is one of the best tools for youtube SEO. It helps you to know what's working for your youtube channel and what's not working. so that you always have an idea when it comes to ranking your videos.
VidIQ gives you access to 15+ tools help you to save time and show the right path to grow.
Make sure you avail of the 30 days free trial of VidIQ.
If you have any questions regarding this then feel free to ask via comments.